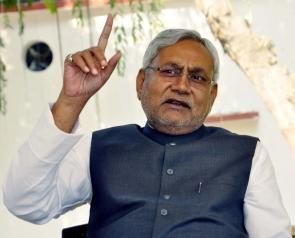 Paying back Narendra Modi in kind for his remarks of Himalayan arrogance, Bihar Chief Minister Nitish Kumar on Wednesday hit back at him saying, "Arrogance is dripping from every inch of his body."
Born in a poor family he only has self-respect and not arrogance, Kumar maintained.
"The style of talking and body posture shows who is arrogant... everybody knows that actually arrogance is dripping from every inch of his body," Kumar said two days after Narendra Modi attacked him at a rally in Purnea calling his arrogance higher than Mt Everest.
The BJP prime ministerial candidate had alleged that the Janata Dal-United leader's 'arrogance' and 'ambition' to become the PM had driven him to split from the BJP.
"We all have respect for Mt Everest which is the highest peak of Himalaya ... but it cannot be a scale to measure arrogance ... born in a poor family I only have self respect and no arrogance," Kumar told a press conference in Patna.
Stating that he wanted to put the record straight, Kumar said he wanted to respond to 'lies' by Modi on Tuesday itself but was busy with induction of a woman minister into the cabinet after the resignation of Renu Kushwaha.
Kumar reeled out figures to highlight the 'truth' about development in Gujarat, which, he said, the BJP was 'trumpeting' across the country.
He laughed at figures given by Narendra Modi from the Sachar committee report to compare the socio-economic condition of Muslims in Bihar and in Gujarat.
Kumar said that these figures pertained to financial year 2004-05 and were based on 2001 census before he assumed power in the state (in November 2005). He said a comparison between a backward and landlocked state like Bihar with a developed coastal state of Gujarat was 'unjustifiable'.

Image: Bihar CM Nitish Kumar