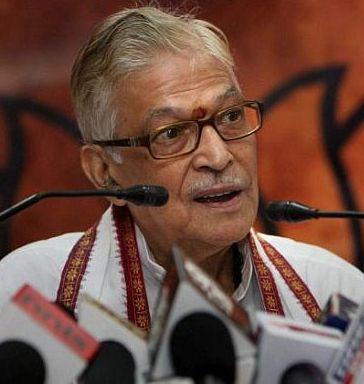 Senior Bharatiya Janata Party leader Murli Manohar Joshi, shifted to Kanpur Lok Sabha seat from Varanasi to accommodate Narendra Modi, on Friday made a veiled attack on sitting Congress MP and Coal Minister Sriprakash Jaiswal, saying he never imagined that one day he would have to fight elections from "constituency of people whose names cropped up in coal gate scam."
"While investigating the coal block allocation scam as a member of the Parliament's Public Accounts Committee, I never imagined that one day I will have to fight elections from constituency of people whose names cropped up in the scam," said Joshi.
The BJP leader, who was on his first visit to Kanpur since the announcement of his candidature from here, was addressing party workers at the Teachers Park.
"There have been a series of scams in various departments of the Central government during UPA rule like railway scam, coal scam, CWG scam. As a member of PAC, I got the opportunity to unearth all the scams and even big industrialists and parliamentarians had to appear before the committee. No one was spared," he said.
"I would like to be known as an honest worker. I would prefer to die than be known as a corrupt politician," he said.
The current MP from Varanasi said he had very old connections with Kanpur.
"I used come here during the days of Jan Sangh. I have a lot of friends here and have always considered Kanpur as my own," he said.
"The party has given me the opportunity to serve Kanpur. I won't make tall claims, but promise to support all schemes for the development of Kanpur," he said.
"We will develop Kanpur with the suggestions and support of residents here. I have come with the resolve to develop the city and make it corruption free," he added.
"When I fought elections from Varanasi, I promised the people that I will get Kashi rid off crime and terrorism. And I am proud that today terrorists and criminals of Kashi are in jail," he said.