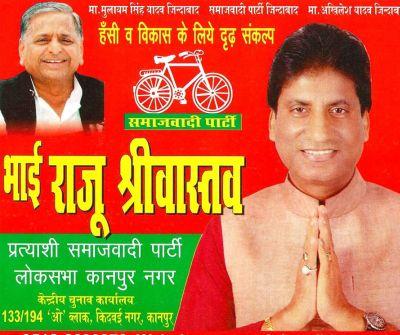 Comedian Raju Srivastava on Tuesday pointedly blamed the top Samajwadi Party leadership for his sudden decision to walk out of the contest for the prestigious Kanpur Lok Sabha seat.
Talking to mediapersons in Lucknow after announcing his decision, Raju said, "I made it a point repeatedly to draw the attention of both Chief Minister Akhilesh Yadav as well as his uncle and party general secretary Ram Gopal Yadav to the continued non-cooperation shown to me by local SP leaders in Kanpur; but they did not take any suitable measures."
He lamented, "Apart from lip assurances that they would look into the issues raised by me, they actually failed to do anything, whereby I was left with no option but to withdraw from the electoral battle."
The popular comedian who is known for his talent to make the world laugh looked quite saddened as he narrated his tale of woe before the media.
According to him, "Kanpur mein party sangathan ke log mujhe bilkul sahyog naheen karte the. Wahan par party ke posters mein meri photo naheen chhapi jaati thee. Manch pe mujhe pratyashi kah ke bulaya jata tha lekin mera naam lene se Samajwadi Party ke kuch sthaniya neta bachte rahte the. Kanpur mein maine daftar khola,.lekin SP ke log wahan aane-jaane walon ko daant-te the. Aur to aur, kuchh log khud ko Kanpur mein SP ka ummeedwar batane lage the". (I was not getting any support from trhe local SP leadership in Kanpur. Party posters put up in and around Kanpur would not include my picture. I was introduced on the dais as the SP nominee without a mention of my name. When I opened my election office in Kanpur, some SP leaders would rebuke other partymen who visited the office. And what was worse that lately, some persons had begun to proclaim themselves as the SP Lok Sabha nominee.)
Asked if he brought all that to the notice of the top SP leadership, he shot back, "Yes I did apprise both Akhilesh ji and Ram Gopal ji, who did assure me that they would have everything sorted out. But somehow nothing happened".
He said, "Under the circumstances, I felt, it was just the right time to step out of the electoral battle."
When a scribe sought to know if he had plans of switching over to some other political outfit, he just ruled that out. "I am not going to join any other political party even though I have friends in several political outfits."
And went on to add, "I would prefer to go back to the world of comedy to where I belong."
On the other hand, SP spokesman Rajendra Chowdhury told PTI, "The party had made Srivastava its Lok Sabha candidate from Kanpur. But he was not taking his candidature seriously.
"Instead of working in the constituency, he was spending his time in Mumbai, due to which his ticket was cancelled by the party some days ago. The new candidate from Kanpur will be decided soon", he said.
Image: Raju Srivastava's campaign poster before he decided to walk out from the poll fray
Photograph courtesy: Facebook