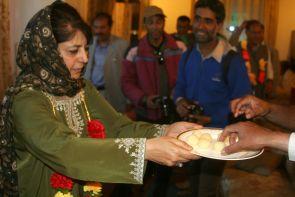 The ruling National Conference-Congress coalition in Jammu and Kashmir received a severe drubbing in the Lok Sabha elections as the coalition could not win even a single seat of the 6 in the state.
While the opposition Peoples Democratic Party decimated the NC in the valley winning all the 3 seats, the BJP bagged the two seats of Jammu trouncing the union health minister, Ghulam Nabi Azad in the Udhampur constituency and two time MP Madan Lal Sharma in Jammu constituency.
BJP made its foray even in the cold desert region of Ladakh winning the seat for the first time.
The shock result was that of the NC stalwart and union minister of New and Renewable Energy, Dr Farooq Abdullah defeated by the PDP candidate Tariq Hameed Karra from the prestigious Srinagar constituency.
This is Farooq Abdullah's first defeat from the constituency which has been represented by the party for the past many years.
State Chief Minister Omar Abdullah while addressing a press conference accepted 'complete responsibility for the defeat'. "I am not the one who shies away from responsibility. I take total responsibility for the defeat. I am still grappling with the question whether to continue or not."
Omar, however, refused to accept that the verdict against the coalition candidates in Jammu and Kashmir was 'a reflection on the performance of his government'.
The moderate All Parties Hurriyat Conference chairman Mirwaiz Moulvi Umar Farooq stated that 'current change of political dispensation in India was meaningless for Kashmiris until the government does not bring changes in its policies and attitude towards the lingering Kashmir issue'.
Image: PDP president Mehbooba Mufti distributes sweets to party workers Photograph: Umar Gaine/Rediff.com