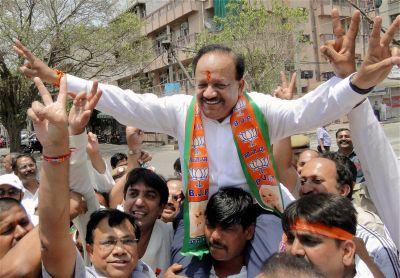 In a thumping performance, Bharatiya Janata Party candidates emerged victorious in all seven Lok Sabha constituencies in Delhi by margin of more than one lakh votes as the party's vote share neared the 50 per cent mark.
In West Delhi constituency, BJP's Parvesh Verma won by highest margin of 2,68,586 votes, defeating his nearest rival, Jarnail Singh of the Aam Aadmi Party.
Verma, son of former Delhi chief minister Sahib Singh Verma, also polled maximum of 6,51,395 votes.
BJP candidate from DelhiNorth West, Udit Raj, emerged victorious by lowest margin of 1.06 lakh votes against Rakhi Birla of AAP.
Raj, who had joined the BJP just a few months before the elections, polled 6,29,860 votes against Birla's 523,058 votes.
The difference in vote between the victorious BJP candidate and Congress was at its highest at 4,72,392 votes in North West constituency. Congress candidate Krishna Tirath polled 1,57,468 votes.
The difference in votes between the AAP and Congress was also at its highest at 365,590 in North West Delhi.
In the prestigious New Delhi constituency, BJP's Meenakshi Lekhi defeated AAP candidate Ashish Khetan by a margin of 1,62,708 votes.
In East Delhi constituency, BJP candidate Maheish Girri defeated AAP's Rajmohan Gandhi, grandson of Mahatma Gandhi, by a margin of 1,90,463 votes.
The lowest difference between the AAP candidate and Congress was 1,07,749 in New Delhi constituency where BJP's Meenakshi Lekhi had emerged victorious.
Lekhi polled 4,53,350 votes against Khetan's 2,90,642 votes. Former Union minister and sitting MP Ajay Maken was in the third position with 1,82,893 votes.
Like in assembly polls, the fledgeling Aam Aadmi Party emerged as the second largest party in the Lok Sabha polls though it could not win a single seat.
In the assembly polls, the Congress had secured a vote share of 24.55 which came down to 15.1 per cent in the Lok Sabha election.
The BJP had secured 33.07 per cent vote share in the assembly polls which increased to 46.1 per cent in the Lok Sabha polls. The AAP's vote share also increased to 32.9 per cent from 29.49 per cent in the assembly polls.
Image: BJP's Harsh Vardhan celebrates his election from Chandni Chowk. Photograph: PTI Photo.