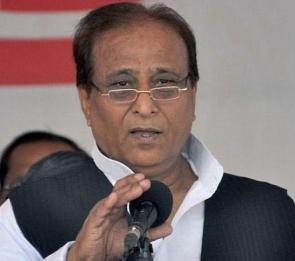 Suggesting that Muslims have contributed to Narendra Modi's victory in the 2014 Lok Sabha elections, SP leader Azam Khan, who had indulged in a vitriolic attack on the Bharatiya Janata Party leader, said they had proved that they were a "secular" community.
"Modi's victory in the Lok Sabha polls has amply proved that Indian Muslims were and are secular," he told reporters in Rampur on Sunday evening. The Uttar Pradesh minister, however, said that the Muslims were lured by "false promises" made by BJP even as he defended Chief Minister Akhilesh Yadav and SP supremo Mulayam Yadav and blamed the United Progressive Alliance's policies for the party's drubbing in the state.
Special Coverage: Election 2014
"Since the Muslim electorate did not have a political agenda to defeat anybody, they were trapped into believing false promises and supported such a political establishment (BJP)," he said.
Khan, who had been appealing to the minority community to get Modi defeated in the Lok Sabha elections, had made several caustic attacks against the BJP leader over his alleged role in the 2002 Godhra riots and even referred to him as "an elder brother of a dog's pup".
Khan was later barred from participation in campaign by the Election Commission for making provocative speeches. On BJP leader Kalraj Mishra's demand for Akhilesh's resignation, Khan said the dismal performance of Samajwadi Party was because of the UPA's wrong policies and mismanagement of economy and that there was no need for the UP CM to resign.
"The debacle which the SP tasted was the result of the UPA government's loot, inflation and corruption. Hence, Akhilesh need not to resign. The hardship being faced by the country today emerged during UPA's "sinful governance" in past 10 years," he said.
He also said that "persons raising such demands were not maintaining sound mental health." Defending SP's support to the Congress rule, Khan said, "We had extended our support so as to check communal forces from holding the reins of the government."
On being asked about SP losing deposit in UP as compared to other regional parties which had registered victory in their respective states, Khan said, "Ayodhya, Kashi, Mathura, and Muzaffarnagar happen to remain in UP and electorate here were promised of 'sunahare sapne' (golden future). They were misguided to the maximum extent".
Azam challenged the new elected representatives of Lok Sabha seats in UP to fulfil their promises and end the problems of corruption and unemployment in the state.