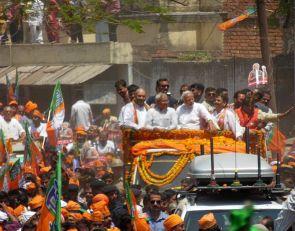 Varanasi, the high-profile Lok Sabha constituency, says it will vote for hope on Monday.
'Modi ka toh kiliyar lagta hai,' (looks like Modi will be the clear winner) says the common man on the streets of Varanasi. They say they will give him a chance but Modi needs to deliver at any cost.
While there has been a lot of hype around the VVIP constituency, the people of this temple town want political parties and the media to focus on the real problems of the place.
"We have water in abundance, but no power and employment," they say. "Varanasi may be a very important for the BJP, as it has become a prestige issue for them, but what we want is an immediate solution to the power situation and the problem of unemployment."
Varanasi despite figuring on the international map for centuries even today has one of the worst roads. The drive from the airport to the city is extremely bumpy. "If this is the state of the road from the airport then you can imagine what the rest of the constituency looks like," says the cab driver.
"We have tried and tested almost all political parties. We want to give Modi a chance. Let us see if he delivers what he promises. We just hope that he retains this constituency and does well," he adds.
People seem to have had enough of road shows and rallies by political parties. "We like our peace and all this attention was not needed. The road shows will not help us, but delivering on promises will. We want our constituency to be well developed and hence tomorrow's vote is for hope," says a man on the street.
Image: Narendra Modi holds a road show before filing his nomination papers from Varanasi Lok Sabha seat
Photographs: Sumit Bhattacharya/Rediff.com
Image: Narendra Modi held a road show before filing his nomination papers from Varanasi Lok Sabha seat
Photographs: Sumit Bhattacharya/Rediff.com