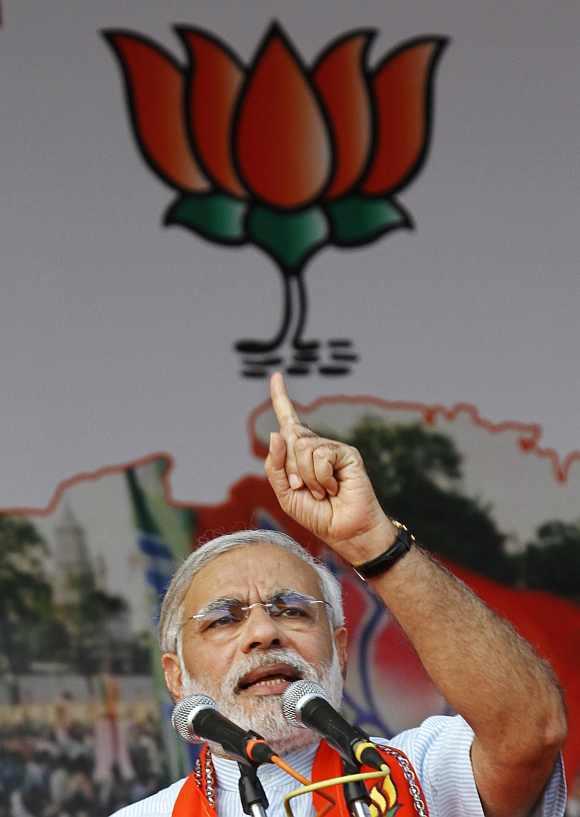 Narendra Modi on Friday mocked Sonia Gandhi's recent invocation of God in which she prayed that the country be saved from the "Modi model", saying it showed how big a problem she is facing as she had never before referred to god in her speeches.
Addressing a rally, the Bharatiya Janata Party's prime ministerial candidate said Gandhi has been frequently remembering God in her public address and suggested that it was because of her concern that the 'maa-beta' government was going.

Special Coverage: Election 2014
"The wickets of the Congress are falling. I never heard Sonia Gandhi invoking god earlier in the last 20-25 years. You can yourself think what kind trouble faces Congress... The maa-beta government is not coming back, it is going," he said, adding that a strong foundation for a new government has been laid in polls held so far.
Gandhi in a public speech had warned against the "divisive" agendas of the BJP under Modi and said, "God save the country if they comes to power".
Attacking the Congress for using the secularism plank to target him, he said secularism had become a ploy to gain power for the ruling party.
"I am fighting for your happiness. They are fighting for their own happiness," he said.
The Congress, Modi said, turned the country into a "nation of scams" by committing large-scale corruption in every field by exploiting land, mines, space and water. "The country has become known as scam India is the world."
Reaching out to youth, he said they did not want any luxury but jobs and but the United Progressive Alliance completely failed in providing them employment. If we cannot provide you employment, then the country will be in a dire state, he said.

Image: BJP's PM nominee Narendra Modi