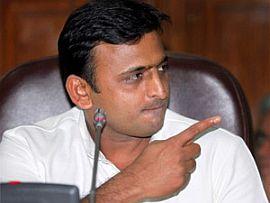 Uttar Pradesh Chief Minister Akhilesh Yadav on Friday hit back at Narendra Modi for the "56-inch chest" remark alluding to his father and Samajwadi Party supreme Mulayam Singh, saying the BJP prime ministerial candidate is the "biggest liar" with a "56-inch belly".
"He is the biggest liar in the world. His campaign is based on lies… he does not have a 56-inch chest but a 56-inch belly," Yadav said while addressing an election rally at Kaiserganj.
"In politics what is needed is a big heart not a big chest," he added.
Modi while addressing a rally in Gorakhpur on January 23 had said, "Netaji (Mulayam), do you know the meaning of converting UP to Gujarat? It means 24-hour electricity in every village and street. You cannot do it. It requires 56-inch chest".
Yadav said that the Gujarat model propagated and highlighted by Modi was "nothing but a lie", adding that "its a model of dividing India by the Rashtriya Swayamsevak Sangh, Vishwa Hindu Parishad and Bajrang Dal".
Attacking the Bahujan Samaj Party, Yadav said that the previous government had spent thousands of crores in construction of parks and memorials and left losses to the tune of Rs 35 thousand crore to the state exchequer.
"I used to call her 'buaji' (paternal aunty). When people older than me call her behenji, I call her buaji", he said.

Yadav reiterated that Third Front will form the next government at the Centre and Mulayam Singh Yadav will lead it.

Image: Uttar Pradesh CM Akhilesh Yadav