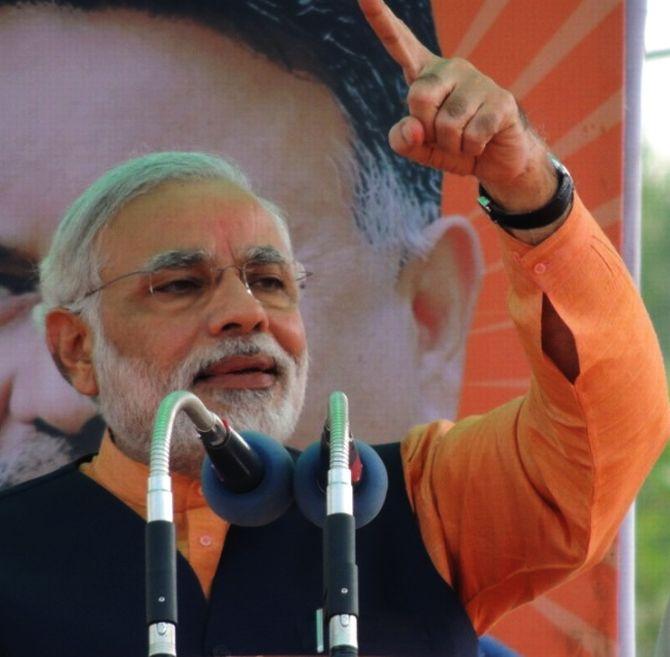 A day after Congress Vice-President Rahul Gandhi took a jab at Gujarat Chief Minister Narendra Modi and dubbed the Gujarat development model as a 'toffee model', Modi on Tuesday compared Gandhi to a child and said the word toffee had caught his fancy after he had repeatedly spoken about balloons.
Speaking at a rally in Hazaribagh, Jharkhand, the Bharatiya Janata Party prime ministerial candidate said that he thought serious issues would be discussed with leaders including L K Advani, Sushma Swaraj, Yashwant Sinha, Arun Jaitley and Murli Manohar Singh were addressing various subjects. "But, on the other side, there is a player whose mind doesn't move away from childishness. Such an important election about the country's future but for 10 days, a word that has gripped him is balloon. For 10 days he has been repeating it. However, children don't stick to one toy for too long and now he has moved to the word 'toffee'," said Modi.
"Now, you tell me what am I to do? I am not of an age where I can play with balloons," said Modi in a clear dig at Rahul who had had dubbed the Gujarat model of development as the toffee model, alleging that land was being given to a few industrialists at throwaway prices.
He added that it was now for the people to decide if they wanted those who play with balloons and crave for toffees. Modi further added that as a child, who sold tea, he had not got toffees but had his sights set on trophies.
Modi also took the opportunity to take a jibe at Prime Minister Manmohan Singh using the book authored by the former adviser to PM Sanjaya Baru.
"I may have used some strong words against Singh over the last 10 years but after reading the book, I feel I should not have attacked him because he was not at fault. The entire fault lies with mother and son (Sonia and Rahul)," Modi said, adding, "It would have been better, if I had not said those words because now it is clear, he had no fault. The entire responsibility rests on one family. It is all the work of mother-son or sometimes of the daughter and son-in–law."
The BJP leader cited the unhappiness expressed by Singh's daughter Upender Singh over the disclosures made by Baru. "She is annoyed that Baru has revealed the inside story. This means that whatever Baru wrote is correct."