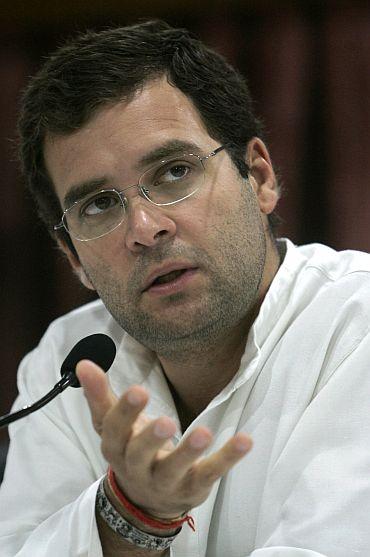 Rahul Gandhi on Friday raked up the issue of Narendra Modi's marriage to attack the Bharatiya Janata Party, saying while the party made claims of ensuring safety of women, it took several elections for its prime ministerial candidate to mention the name of his wife in the poll affidavit.
"Don't know how many elections he has contested till now, but he has revealed for the first time that he is married. In Delhi, he talks about honour of women, but his own wife's name doesn't reach the affidavit," he said while addressing a gathering in Doda, Jammu and Kashmir.
Modi has for the first time declared himself as a married man by revealing his wife's name as Jashodaben in an affidavit filed before the Election Commission along with his nomination papers for Vadodara Lok Sabha seat.
In previous elections, Modi used to leave the column of spouse blank in the affidavit. He had kept the column as blank in the 2012 assembly elections as well.
Targeting the BJP, Rahul said the party's ministers in Karnataka watched videos while in the state assembly.
"What kind of videos, you would have read in the newspapers," Gandhi said, apparently referring to an episode during BJP's tenure in Karnataka when ministers were caught on TV allegedly watching porn clips in the state assembly.
Hitting out at the BJP, Gandhi also claimed that he had gone to Chhattisgarh where he had been told that 20,000 women were missing. "They don't know where they went, they are missing," he said.
Raman Singh-led BJP government is in power in Chhattisgarh.