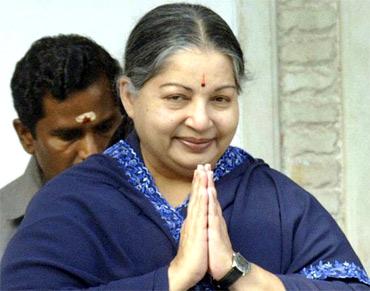 A massive swing of 21.3 per cent in vote share propelled the ruling All India Anna Dravida Munnetra Kazhagam to coast to a resounding victory in 37 of the 39 seats leaving miles behind rivals including the Dravida Munnetra Kazhagam, Congress, Desiya Murpokku Dravida Kazhagam and the Bharatiya Janata Party in the Lok Sabha polls in Tamil Nadu.
Chief Minister J Jayalalithaa, who staged a splendid solo performance which wiped out arch-rival DMK and the grand old party Congress, ensured AIADMK garnered a total vote share of 44.3 per cent as against 23 per cent it gained in 2009.
The swing that virtually doubled for AIDMK, also saw its surge to 37 seats from a tally of mere nine seats it won in last General Election
The crest fallen DMK had a meagre drop by 1.6 per cent vote share in this election from 25 per cent in 2009 to 23.4 per cent, but suffered major jolt drawing a blank.
M Karunanidhi-led DMK won 18 seats scoring 25 per cent of the total votes polled in 2009.
The BJP which won the lone seat has doubled its vote share to 5.4 per cent from 2.34 per cent.
The isolated Congress which went into contest alone in all 39 seats secured 4.3 per cent of votes as against 15.3 per cent it won in 2009.
The Congress, like its former ally DMK, could not win a seat. The Sonia Gandhi-led party had won eight seats in 2009. However, the saffron party's major ally and the principle opposition party DMDK led by actor-turned-politician Vijayakant saw its vote share plunging down to 5.1 per cent as against ten per cent in the previous outing.
Similar is the fate of Left parties CPI and CPM which witnessed reduction in vote share to 0.5 per cent from 2.02 per cent and 2.85 per cent clocked last time respectively.
The Left parties whom the AIADMK dumped from its alliance were also swept away by the tsunami of Jayalalithaa wave.
Interestingly, PMK which could not win a seat scoring 5.7 per cent in last election managed to get a seat with 4.5 per cent vote share this time.
Arvind Kejriwal's Aam Admi Party managed to win the confidence of 0.5 per cent of the 5.50 crore electorate in the state, but its presence went virtually unnoticed.