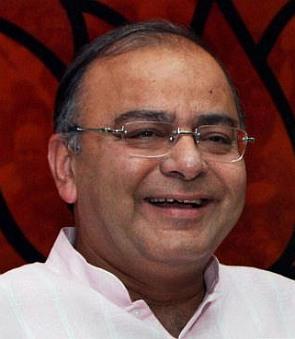 A day ahead of polling in Amritsar Lok Sabha seat, senior BJP leader Arun Jaitley on Tuesday expressed confidence that his issue-centric campaign will succeed against the "rude and discourteous" campaign of his Congress rival Amarinder Singh.
Complete Coverage: Lok Sabha Election 2014
"I was faced with the campaign by Congress which has run out of ideas. Amarinder Singh decided to deal with me the way he has dealt with Akali Dal through his career -- be rude, discourteous and fabricate allegations -- something will stick.
"Unfortunately for him he was dealing with a different kind of campaign. My campaign was issue centric both at the national level and region of Amritsar. I was able to get back at him, politely but firmly. A lumpen campaign strategy of the Captain (Amarinder) was hardly likely to succeed against me," Jaitley wrote on his blog.
Besides Amarinder, Jaitley also accused prominent Congress leaders such as P Chidambaram, Kapil Sibal, Manish Tewari, Jairam Ramesh, Anand Sharma and Beni Prasad Verma of being rude and discourteous in their effort to "demolish" Modi's popularity among the people of the country.

"(Instead) They ended up demolishing themselves. Most of them either did not contest or are likely to come third in their own constituencies.

"The Jairams and the Sibals have been God's special gift to the Congress. They then decided to manufacture a new campaign. They clapped like a child thinking that the 'Toffee Campaign' was working even though it was based on falsehood. Rahul had decided to do a Kejriwal," he wrote, hitting out at Congress vice president Rahul Gandhi who recently at an election rally dubbed Gujarat model as "toffee model".
On the video released by Congress which purportedly shows Modi in pictures with one Afroz Fatta arrested in connection with a Rs,1000 crore hawala racket, Jaitley said manufacturing a campaign based on non issues is among the pitfalls of contesting elections without an issue.

"A new bright face in the media, (Congress spokesman Randeep) Surjewala, discovered a motley crowd posing for a photograph with Modi and spotted one rogue in it. His smugness showed that he believed that the Congress had won the election on this ground," Jaitley wrote.
The BJP leader thanked his team of supporters for the seven week long campaign in Amritsar which ended on Monday and said modern techniques of campaign proved to be a great asset including his morning blog through which he connected to lakhs of people in Amritsar.
Complete Coverage: Lok Sabha Election 2014