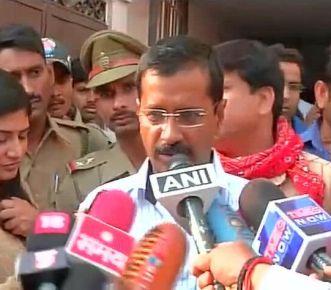 Downplaying his party's dismal performance in the polls, Aam Aadmi Party chief Arvind Kejriwal said it was a 'good start', but admitted that it could have done better in the national capital, where it had emerged as the second largest party in the assembly election six months back.
"This was our first (general) election. It is a good start though we are a bit upset over the Delhi results. We could have done better in the national capital," he said.
Special Coverage: Elections 2014
Asked whether AAP should have focused more on specific seats, Kejriwal replied, "I always have maintained that this is the people's election and we did not have money. We were just a providing platform to the public. We are surprised about the results in Punjab and shocked over the outcome in Delhi. We will sit in the next 3-4 days and discuss the results. People's verdict is supreme in democracy and we accept that. I am grateful to people for their love and respect," he said.
Image: Arvind Kejriwal reacts to his party's performance in the elections. Photograph: ANI