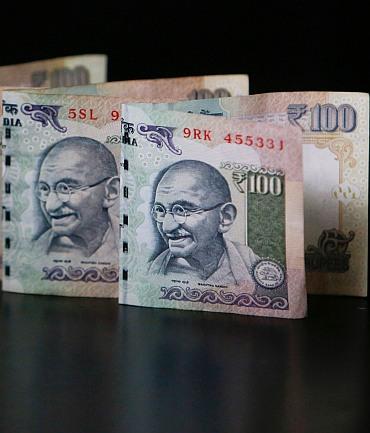 Rediff.com's A Ganesh Nadar spent Wednesday night -- the night before the Lok Sabha election in Tamil Nadu -- roaming the streets of a village, to discover the role money plays in getting the vote out in rural Tamil Nadu.
"Akka (elder sister), how many votes in this house?" asks the party worker. "Thambi, (younger brother) you know I live in Chennai, just came for the holidays," the housewife replies.
"Thambi, how many votes in your home?" the party worker asks at the next house. "Anna, only two," the voter replies. Four crisp notes are counted out with a flourish and given. "You know who to vote for?" the party worker says with a smile and leaves.
The process is repeated at every home in the village; Rs 200 is given to every voter. The distribution of money occurs from 8 pm to midnight.
"Nobody is going to vote for them," one young man tells me. "Last time they gave Rs 1,000 for a vote and this time they expect us to vote for Rs 200. The party must be really scared that it is distributing money at the last minute."
A party worker boasts that he brought Rs 12 lakh (Rs 1.2 million) in an SUV. He says he was stopped four times and the SUV searched each time, but the police never discovered the money which had been hidden in the vehicle's air filter.
A journalist in Tiruchi confirms that the leaders of a party told its cadres to distribute Rs 200 per voter. Their argument: Since their rival party was not distributing money, even Rs 200 was good enough to buy votes.
One businessman candidate in the state offers Rs 300 a vote which a political heavyweight in another constituency also does.
The voters I spoke to are upset. "Even our panchayat elections were better," one village elder complains. "One candidate gave Rs 500 and the other Rs 800, so we got Rs 1,300 per vote."
A senior party worker says he is not distributing money this election, adding that he is too old for this kind of tiring work. He is just keeping an eye on the polling booths in his area.
Another party worker is heading to the district headquarters where the candidate is based. "The food is always better there and in the evening he will give us money for the hard work we have done in the last two weeks."
Outside the village school, a polling booth, two young men ask voters to vote for their party. One old woman asks, "I have got Rs 200 to vote. Are you giving me Rs 300?" The men smile at her.