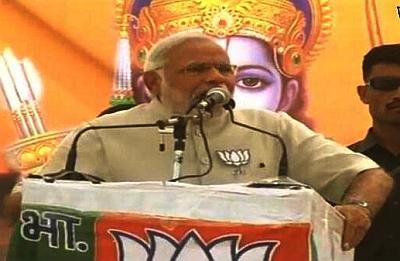 Bharatiya Janata Party on Monday said Narendra Modi's Ram Rajya remarks at a rally were used for good governance as per Indian traditions and did not violate any law.
"If he has talked about Ram Rajya, according to our traditions when we talk of good governance we talk of Ram Rajya," BJP leader Yashwant Sinha said.
The former finance minister said Modi had not violated any law by saying so and the party will reply accordingly if the Election Commission issues a notice to him. "EC has taken note of it. If EC gives a notice, we will give a reply," Sinha said.
The Election Commission is already looking into the Ram Rajya remarks made by Modi in Faizabad, a town near Ayodhya, while addressing a rally and has sought a report from the district authorities about his speech and the stage backdrop. Modi addressed a rally in Faizabad in support of party candidate Lallu Singh from a dais which had pictures of Lord Ram and the proposed Ram temple model in Ayodhya.
The use of religious symbols is banned during election campaigns. The Election Commission sought a report from the district authorities about his speech and the stage backdrop.
"I have sought a report on Modi's speech and backdrop of the stage at the rally from District Magistrate, Faizabad," Uttar Pradesh Chief Electoral Officer Umesh Sinha told PTI.
During the rally, made several references to Lord Ram to exhort people to defeat the Congress, Samajwadi Party and Bahujan Samajwadi Party and support the BJP. "This is the land of Lord Ram where people believed in 'pran jaye par vachan na jaye' (one may lose life but cannot break promise). Can you pardon those who broke their promises," the BJP prime ministerial candidate said at the rally, referring to the ruling party's unfulfilled promise of providing 10-crore jobs to people.
The Congress wasted no time in attacking him and alleged that his campaign was based on "polarisation, not development." The party accused Modi of using religion for canvassing by putting out Lord Ram's portrait and approached the Election Commission, demanding the registration of a First Information Report against him and other party leaders as well as derecognition of BJP.
Special Coverage: Election 2014
Reacting to the barrage of Congress complaints against the BJP, Sinha said "I will plead that there should be an expressway made between the Congress office and the Election Commission."
When asked about BJP breaking an unwritten code by campaigning in Amethi, Sinha said, "We are not breaking any tradition. This has not been a strong tradition" and then added, "A lot many traditions have been broken by this government and its ministers. Whenever we go abroad, we don't criticise the government or leaders but these ministers have broken this code."
Image: Narendra Modi addresses a rally in Faizabad, Uttar Pradesh on Monday