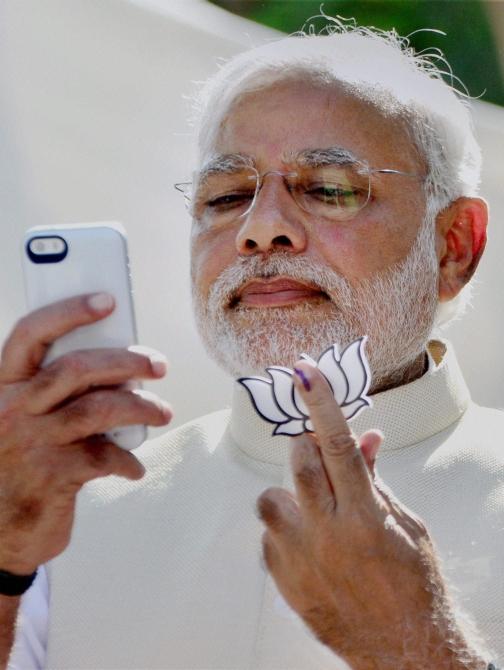 A First Information Report was on Wednesday lodged against Narendra Modi by the Gujarat police following an order of the Election Commission's which held that he violated the model code.
In an embarrassment for him, the Bharatiya Janata Party's prime ministerial candidate faced the EC's action for displaying party's election symbol 'lotus' and making a speech after casting his vote in Gandhinagar.
"We have complied with the Election Commission's order. We have filed FIRs and we have given the compliance report to the EC, Commissioner of Police, Ahmedabad, Shivanand Jha told mediapersons."
Special Coverage: Election 2014
The EC had also ordered that FIR be filed against electronic media for carrying the proceedings relating to Modi. "Two FIRs have been registered by the city crime branch in connection with the events," Gujarat Director General of Police P C Thakur told PTI when asked if the police has registered an FIR against Modi.
Modi had triggered a controversy when he addressed a press conference immediately after casting his vote at a school at Ranip area of Ahmedabad, part of party veteran L K Advani's Gandhinagar seat, where he prominently displayed the BJP's election symbol.
The Congress accused him of violating the model code and registered a complaint with the EC. "The Commission is of the view that by holding that meeting and also by addressing the same today when the polling is going on in the entire state of Gujarat and in different parts of the country, Narendra Modi has violated the provisions of Sections 126 (1)(a) and 126 (l)(b) of R P Act 1951.
"Therefore, the Commission directs...that complaint/ FIR as the case may be, should be filed against Modi and all others who were involved in the convening and holding of the said meeting...," the EC order said.
It also said that all the TV channels and other electronic media which carried the proceedings of the meeting and displayed the election matter should also be proceeded against under Section 126 (l) (b) "by filing separate complaints/FlRs against those channels."
The panel had sought compliance by 6 pm. According to the section 126 (1) (a) and (b), there is a prohibition of public meetings during period of 48 hours ending with hour fixed for conclusion of poll.
Image: BJP PM candidate and Gujarat Chief Minister Narendra Modi takes a selfie after casting his vote at a polling station in Ahmedabad. Photograph: PTI photo.