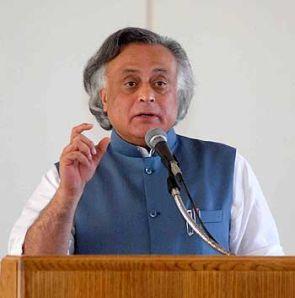 Senior Congress leader Jairam Ramesh on Friday termed as "deeply disturbing" Narendra Modi-led BJP's massive victory in the Lok Sabha polls and said that "very difficult days" are ahead if he rules India the way he governed Gujarat.
Admitting that "Modi effect" was at work in the elections, Ramesh also said the entire Congress leadership -- not an individual -- is responsible for the "staggering defeat" of the party and the its "resilience" is going to be put under test.
"It is a disturbing victory for me. Because Modi represents an ideology that is completely against the very idea of India. Modi represents an India that is not (Rabindranath) Tagore's India, that is not (Mahatma) Gandhi's India, that is not (Jawaharlal) Nehru's India, that is not (Sardar) Patel's India," Ramesh said.
"It is deeply disturbing because firstly polarisation was part of Modi's strategy, particularly in Uttar Pradesh and Bihar, secondly his track record in Gujarat of governance has been one of political authoritarianism and social divisiveness.
And if he is going to govern India the way he governed Gujarat, we have very difficult days ahead," said Ramesh, who is also the Rural Development Minister, in the outgoing Manmohan Singh Cabinet.
"The scale of our defeat has been staggering. Most unexpected. We really have to understand why this happened -- to what extend is this Modi wave -- to what extent is this anti-incumbency wave. These are all factors that we will have to understand," Ramesh said.
Asked who should be held responsible for the debacle of the Congress, he said, "All of us are responsible. How can one individual only be responsible."
He admitted that people of India have voted for the Congress party to be in the opposition.
Asked whether the defeat put a question mark on the leadership of party, Ramesh said, "I it think calls into question our reserves of strength, what reserves of strength we have. What capacity for resilience and bounce back we will have."
He also said the party will play a role of constructive opposition like it did in between in 1998 and 2004 during NDA rule.