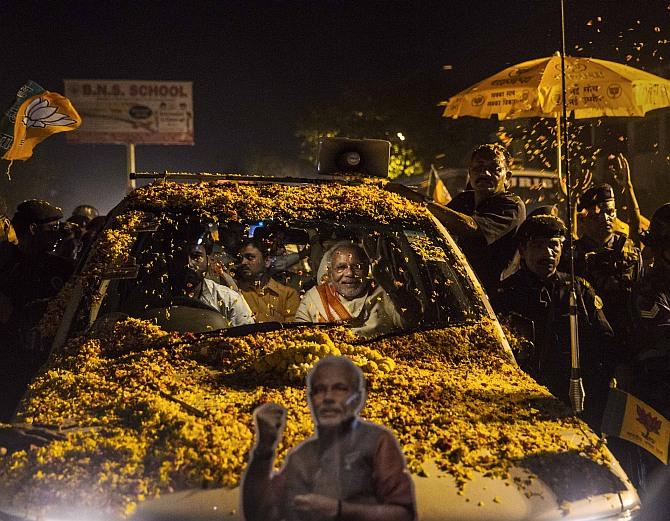 Justifying their attack on the Election Commission over denying permission to Narendra Modi to carry out a rally in Varanasi, the Bharatiya Janata Party said on Friday that constitutional institutions were not immune from criticism.
"Do constitutional institutions have immunity from criticism? I do not subscribe to the view that merely because an institution is created by the Constitution, it cannot be criticised," BJP leader Arun Jaitley said on his blog. His remarks came a day after Modi launched an all-out war on the poll panel accusing it of working under pressure and showing bias against him.
The BJP's prime ministerial candidate, defying prohibitory orders to hold a rally, took out a massive roadshow in the temple city along with senior party leaders.
Complete Coverage: Election 2014
Jaitley said that he was convinced that the decision against allowing Modi to hold a rally in his constituency was both 'unfair and a denial of right to campaign'. "Both the returning officer and the Election Commission have been rightly criticised for this blunder so that in the future, their successors do not make the same error. I do not subscribe to a vague notion of self-censorship based on an inter-institutional courtesy. My advice to the returning officer is that by denying the right to hold a rally he cannot restrict Modi's campaign. Yesterday's events proved that unfairness of the returning officer was given a fitting reply by the people of Varanasi," he said.
Unfazed by BJP's all-out attack, the poll panel had yesterday rejected the accusation of bias and made it clear that it was 'not afraid of anyone, any political party or any entity' in doing its job.
Image: Narendra Modi waves to supporters as he takes out a roadshow in Varanasi on Thursday. Photograph: Kevin Frayer/Getty Images