'The people are voting for those who fought for Telangana and not on the basis of alliances.'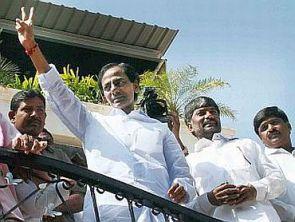 President of the Telangana Rashtra Samithi K Chandrasekhar Rao is a popular face in the Telangana region and hopes to be the first chief minister of the new state which will be formed on June 2.
He is confident of victory and the next 15 days he will be busy finalising candidates and chalking out a road map for his party.
K Chandrasekhar Rao, in an interview with Rediff.com's Vicky Nanjappa, says the TRS has decided to fight the election on its own and is convinced the people will reward them for their efforts.

Edited excerpts:
On a merger with the Congress:
There was an allegation made against us that the TRS had asked for the post of chief minister in Telangana. I want to ask you, what is wrong in that? Does the Congress deserve the post of CM? No, it does not. They have not done anything for the region. They have come into the picture only now. We fought for the movement all along and they cannot take that credit away from us. We are firm that we will fight the elections alone and have lost nothing by not merging with the Congress. I can tell you for sure the Congress will win just 25 seats in the assembly segment.

Will there be an alliance with the BJP?
No, we will not ally with either the BJP or the Congress.

Were candidates selected to suit the Congress?
That is not correct. There are various issues that one needs to look into. The selection process did not involve any kind of backroom deal.

On the BJP-Telugu Desam Party deal:
It is a bad deal. I don't know why the BJP went with Chandrababu Naidu (TDP president). As I see it, it will bring about BJP's downfall. We are not worried about this alliance as we believe we will emerge victorious. The people are voting for those who fought for Telangana and not on the basis of alliances.

On Medak MP Vijayashanthi:
I do not want to comment. Why she was given the Medak assembly seat is something the Congress can answer better.

On his chances of winning from Gajwel assembly constituency and Medak parliamentary seat:
I am very sure of winning. The people know what I have done for them and they will vote for me.

First step the party will take if it comes to power:
We will provide 50 lakh jobs and reclaim land taken away illegally in the Telangana region. We will also develop all backward areas in Telangana. Put up 10 thermal power stations and also make Hyderabad a software and hardware hub. We would like to frame a new syllabus on the Telangana movement at the primary level in schools.
Image: President of the Telangana Rashtra Samithi K Chandrasekhar Rao