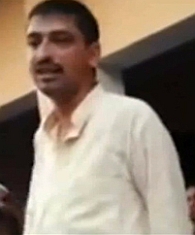 Congress Vice President Rahul Gandhi cancelled his scheduled rally in Saharanpur on Saturday in the wake of party candidate Imran Masood's arrest for his controversial remark against Narendra Modi.
"Rahul Gandhi's rally is being postponed. The next date for it will be decided later on," Congress Legislature Party leader Pradeep Mathur said.
The decision to cancel the rally comes after Masood was arrested by police for allegedly threatening to chop Bharatiya Janata Party's Prime Ministerial candidate Modi "into pieces".

Latest election updates on Twitter: @RediffElections
A video footage of the election rally in Saharanpur, showing Masood attacking the Modi had gone viral on the web.
The Congress candidate was seen in the video as saying that "If Modi tries to make Uttar Pradesh into Gujarat, then we will chop him into tiny pieces...I am not scared of getting killed or attacking someone. I will fight against Modi. He thinks UP is Gujarat. Only four per cent Muslims are there in Gujarat while there are 42 per cent Muslims in UP."
The Congress had distanced itself from Masood's remark, saying it abjures violence whether of language or otherwise while the BJP condemned it as inflammatory and dragged Congress President Sonia Gandhi into the controversy. The BJP also demanded strict action against Masood by the Election Commission.
Masood, 40, who was arrested in the wee hours by the police from his residence, said he had done no wrong.
"It is all BJP's plotting. I don't have any remorse, as I did no wrong. I will not apologise either to Narendra Modi or to the BJP," the Congress leader, who had expressed regret for his remarks on Friday told reporters.
Masood was produced in a Deoband court.
Senior Superintendent of Police Saharanpur Manoj Kumar said, "We received a video footage of Masood. Based on its review a case was registered in the Deoband police station against him."
"Cases have been registered against him under section 295 A (deliberate and malicious acts, intended to outrage religious feelings or any class by insulting religion or religious beliefs), 504 (Intentional insult with intent to provoke breach of peace), 506 (criminal intimidation) of the IPC, Section 125 (promoting enmity between classes in connection with election) of Representation of People Act, and 310 SC/ST Act," he said.
Necessary probe is being carried out and legal proceedings will be held, Kumar said.
Defending Masood, Congress leader Rita Bahuguna Joshi said, "His statement is not about elections....Also newspaper reports say the statement is six months old. The person standing next to him (in the video) has also passed away. Now what was said in some other time, I don't know how certified it is?"
"It is a legal matter. What has been registered against him, what is the truth in it will be seen by the party high command, which will decide the future course of action. I don't think any ticket will be changed now," she said.
The BJP had sought strict action against Masood by the Election Commission for violation of the model code and asked the poll body to ensure the safety and security of all its leaders including Modi.
"The BJP strongly condemns Imran Masood's statement. The language used is clearly promoting violence. We expect the Election Commission to take effective note of the remarks. The incident is important as Uttar Pradesh is going through a phase, which is very communally sensitive.:
"We are going to approach the Election Commission by lodging a formal complaint with it today. The Election Commission and the Centre should take serious note of this," BJP Spokesperson Sudhanshu Trivedi had said.
BJP Vice President Mukhtar Abbas Naqvi alleged political secularism is being converted into "Talibani secularism" and the kind of language used by Congress leaders is vitiating the atmosphere of elections.
Image: A video grab of Imran Masood while delivering the controversial speech in Saharanpur