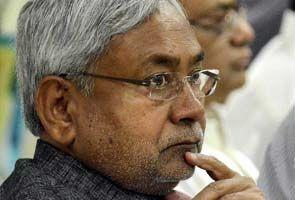 From the Yadav-dominated Madhepura to the Brahmin-dominated Darbhanga and Bhumihar-dominated Begusarai -- three of the seven parliamentary constituencies in Bihar -- that go to vote on April 30 are crucial for Bihar Chief Minister Nitish Kumar as it will be a test of his 'development model'.
Fighting alone in the electoral battle, which is seen as a challenge against his ally-turned foe -- Bharatiya Janata Party's prime ministerial candidate Narendra Modi and his traditional rival Lalu Yadav, Nitish is confident to prove his development plank.
Over 1 crore eligible voters will decide the political fate of dozens of candidates in the fray in Madhepura, Jhanjharpur, Madhubani, Darbhanga, Samastipur, Begusarai and Khagaria of the flood-prone Kosi and Mithilanchal regions, known as the most backward pockets with high percentage of poverty, illiteracy and migration.
Special Coverage: Election 2014
These seats are poised for triangular contests just like the last polls.
The stakes are high for Nitish as the Janata Dal-United had won five of seven seats including Jhanjharpur, Madhepura, Samastipur, Begusarai and Khagaria in the 2009 polls. Former ally BJP had won the remaining two seats -- Darbhanga and Madhubani. Both had benefited from each others support base last time.
The situation has changed this time after the JD-U ended its 17-year alliance with the BJP last June; now both are contesting the polls without each other for the first time since 1996. Sensing it a difficult challenge, Nitish was forced to make Madhepura his base for campaigning until Monday.
"Nitish has worked overtime by camping in Madhepura for nearly 10 days to ensure the victory of party candidates including party president Sharad Yadav," a JD-U leader said.
Though the BJP is heavily banking on Modi and his wave, party leaders hope to win more seats than the last time to get the mandate to form the next government at the Centre.
On the other hand, RJD-Congress leaders are upbeat as they have nothing to lose, but the exact opposite. "Even if we win at least one or two seats, it will be a big gain for us," RJD leader Chandeshwar Prasad Singh said.
Among those prominent in the fray are former Union ministers Sharad Yadav, Hukum Deo Narain Yadav, Ali Ashraf Fatmi, cricketer-turned-politician Kirti Jha Azad, controversial former Member of Parliament Pappu Yadav, Noble Peace Prize nominee Tiliya Devi, Non-Resident Indian doctor Prabhat Ranjan Das, former leader of opposition in the Bihar assembly Abdul Bari Siddiqui and Krishna Yadav, wife of a former bahubali legislator Ranvir Yadav.
The BJP is confident of overwhelming support of the upper castes who are known to influence politics in the state, and hopes to garner support of Other Backward Classes, Extreme Backward Castes, Dalits and Mahadalits, the poorest among the Dalits -- thanks to its alliance with the Lok Janashakti Party of Ram Vilas Paswan and Rashtriya Lok Samata Party of Upendra Kushwaha.
The BJP has fielded most of its candidates keeping the caste equation in mind.
BJP candidate and sitting MP from Darbhanga, Kirti Jha Azad, a Brahmin, is eyeing overwhelming support of his caste-men and other upper castes. Another BJP candidate and sitting MP from Madhubani Hukum Deo Narain Yadav hopes to get a majority of his castemen, the Yadavs.
Similarly, BJP candidate Bhola Prasad Singh from Begusarai, is depending on his upper caste Bhumihar voters, who are not only vocal supporters of Modi, they virtually control politics there, which was once known as 'Leningrad of Bihar' a Left stronghold.
On the other hand, RJD-Congress candidates are depending heavily on the overwhelming support of the traditional caste support base of Yadavs, a section of EBCs, Mahadalits, Rajputs and Muslims.
"In Madhepura, there is direct fight between two formidable Yadav candidates – Pappu Yada and sitting MP Sharad Yadav. Their caste votes will be divided. The JD-U is hopeful of the support of Kurmi, EBCs, Mahadalits Muslims, Rajputs and other upper castes, while Pappu is eyeing support of OBCs and Muslims," said Ranjiv, a political activist.
Both Nitish and Lalu have vigorously campaigned in Madhepura and addressed nearly half a dozen public meetings.