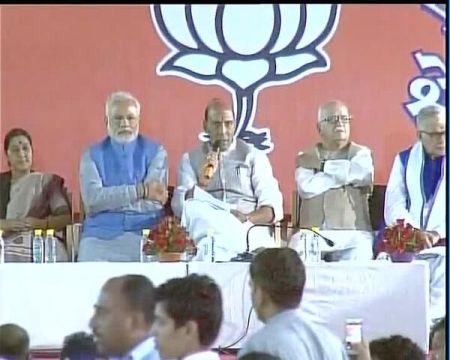 The Bharatiya Janata Party parliamentary party will meet on May 20 to formally elect Narendra Modi as its leader, a formality before his anointment as prime minister.
This was decided at the meeting of the parliamentary board, the highest decision-making body of the party chaired by BJP chief Rajnath Singh and attended by Modi, L K Advani, Murli Manohar Joshi, Sushma Swaraj and other top leaders.
In a brief address to the media, Rajnath Singh said the allies of the National Democratic Alliance will also be invited for a meeting on the same day.
Complete Coverage: Elections 2014
Dismissing media speculation, he said no date had been fixed for swearing-in of Modi as the prime minister. It would be decided after the parliamentary party meeting.
Singh was addressing the media after they met for one hour during which a resolution applauding the stewardship of its prime ministerial candidate for his 'tireless efforts' and 'inspirational' leadership was adopted. The resolution said Modi "gave a direction to the campaign with a vision" and also thanked BJP workers along with 'social and cultural organisations', an apparent reference to the Rashtriya Swayamsevak Sangh and affiliate groups. It underlined that India needs a government which is 'effectively governed and puts the country on a high growth track and sets highest standards of probity'.
The BJP wants to build a country which is 'strong, self-respecting and self-reliant', the resolution said.
Commenting on the election results, the board hailed the verdict given by people. "People have spoken and spoken decisively. It is for the first time that a non-Congress government has got mandate on its own to govern."
Image: Rajnath Singh with Narendra Modi, LK Advani and Sushma Swaraj attend a press conference after the board meeting. Photograph: Twitter/ANI