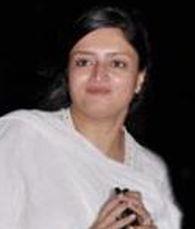 Two members of a family are fighting each other for the Jamnagar Lok Sabha seat in Gujarat.
Bharatiya Janata Party candidate, Poonam Madam, the sitting MLA from Khambhaliya, is pitted against her uncle and sitting Congress Member of Parliament, Vikram Madam, who has been an MP since the last two terms.
Poonam, who earlier was an active Congress member, quit the party after being denied a ticket in the 2012 Gujarat assembly elections.
The BJP not only welcomed a "disillusioned" Poonam with open arms but also gave her a ticket from the Khambhaliya constituency, where she convincingly defeated her rival.
She announced that she had been "highly impressed" by the "rapid development" Gujarat had been making under (BJP prime ministerial candidate) Narendra Modi's "astute leadership."
Poonam earlier had said that she was fast losing interest in the Congress because of its leadership's "lack of decision-making" and was getting "more and more interested in the BJP's ideology and style of functioning."
Though she has always avoided answering questions about her uncle, Poonam said she was confident of getting more votes than him.
Poonam has been an MLA for a little over a year and winning Jamnagar district may seem like a long shot for her. However, if she does manage to beat her uncle, even by a tiny margin, she may be hailed as a giant killer.
But Vikram Madam is a seasoned politician, who has enhanced his reputation as a "common man's man" during the two terms he has been a Congress MP. He is approachable and available, even to the lay people. He has discussed the issues of fishermen and Jamnagar's brass parts industry, among others, with the prime minister, and the external affairs minister.
"I'm a servant of the people. I ride my bike and meet them easily. I hear their complaints, their problems and try my best to solve them," he said. "I always keep my word. I've asked more questions in the Parliament than any other MP from Gujarat," he added.
Like his niece, he too refused to entertain any question about her. He said he would make a hat trick and win Jamnagar.
Image: Sitting MLA from Khambhaliya Poonam Madam
Photograph: Courtesy Facebook