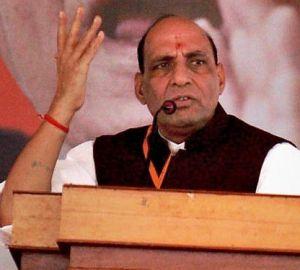 Bharatiya Janata Party president Rajnath Singh on Sunday termed the Congress-led United Progressive Alliance government as the most corrupt in independent India and pledged to send corrupt ministers of the outgoing administration to jail once his party is voted to power.

Addressing an election rally in Tinsukia in eastern Assam on Sunday afternoon, Rajnath accused the Manmohan Singh-led government of indulging in corruption worth Rs 5.5 lakh crore and vowed to expose Congress' attempt to dust corruption under the carpet.

Asking people to vote for BJP candidate, Rameswar Teli in Dibrugarh Lok Sabha constituency against Congress stalwart Paban Singh Ghatowar, Rajnath said it was time to wipe out Congress from the country to fulfill the wishes of Mahanta Gandhi.

"Mahatma Gandhi had proposed for dissolution of Congress after independence, but Congress leaders opposed it. Gandhi made the proposal because he knew that Congress would destroy the country. See what Congress has done to the country today. So root out Congress from the country this election," Rajnath said, ridiculing Congress charge that RSS was responsible for killing of Mahatma Gandhi.

"Rahul Gandhi has promised to remove poverty and unemployment. There is nothing new about the election promises of Congress. Had only half of those promises been fulfilled, India would have been the most prosperous country in the world today. Congress has so far ruled the country 55 years since Independence, but poverty has increased. Dr Manmohan Singh, if poverty has been reduced why have you increased allocation of subsidies in the Union budget?" the BJP president asked.

"Way back in 1950s Jawaharlal Nehru and Congress said they were engaged in building India. Today Congress is still campaigning in some of the TV channels about its 'Bharat Nirman' agenda. How long they will take to build India?" he said.

"The US president during his visit to India during the NDA regime had said during a joint sitting of both Houses of the Parliament said that India was not emerging but had emerged," Rajnath said adding see what the Congress has done to the country today when even smaller nations
like the Maldives can dare to bully India.
"Pakistani dragged away our jawans from the border, behead and celebrate while Manmohan Singh and Sonia Gandhi remain silent. Don't think our soldiers are weak. Give them a freehand and no power on the earth can defeat them," he said.
Criticising Manmohan Singh government's diplomatic abilities the BJP leader mentioned about China's repeated claim on Arunachal Pradesh and boasted that former BJP Prime Minister Atal Behari Vajpayee during his visit to Beijing persuaded China to give up its claim on Sikkim.
"Arunachal Pradesh was with India, is with India and will remain with India," he asserted.
Terming party's prime ministerial candidate Narendra Modi a time-tested 'diamond' Rajnath said, "Modi had faced maximum political attacks in post-independent India because of an unfortunate incident (Gujarat riot) though he had been given clean chit by the Supreme Court. There has not been any communal riot in any of the BJP-ruled states. It is so because we do politics of justice and respect human values."
Targeting the UPA government over spiralling prices, Rajnath said, "Prices always soar when there is a Congress government. The last ten years have witnessed record hike in prices of all commodities. Remember how the BJP-led NDA government of Atal Behari Vajpayee controlled prices for six years. Wrong economic policies and corruption of UPA are responsible for price rise."
Rajnath said that the BJP would wipe out the sense of insecurity about their future prevailing among the youth in the country today in five year through all encompassing and speedy development, infrastructure building and employment generation. He promised 24-hour power supply in all states.
Wooing the tea workers in Assam, Rajnath promised that their wages would be increased to at least Rs 180 per day from present rate of Rs 94 per day and made commitment to upgrade Digboi refinery in eastern Assam to generate employment and production.