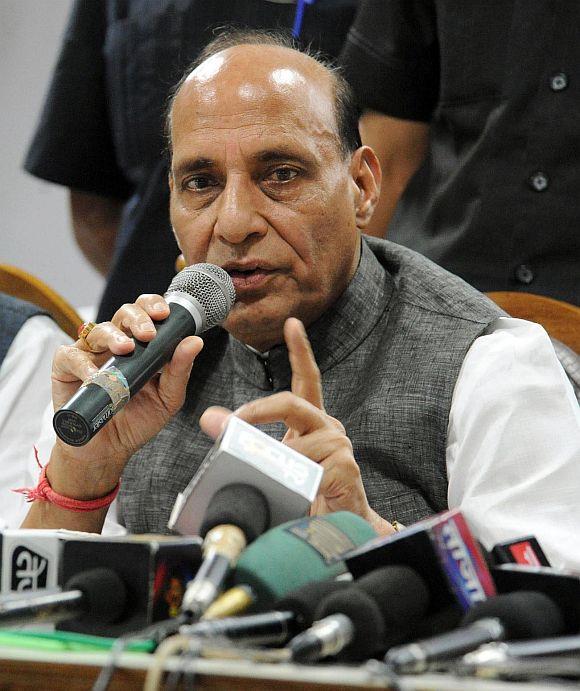 The Bhartiya Janata Party may have forgotten its one time stalwart and ailing former prime minister Atal Behari Vajpayee. But the 2014 Lok Sabha election has prompted party president Rajnath Singh to profusely remember the tallest BJP leader, whose five-term long stint as MP from Lucknow obviously comes in handy for Singh to make the capital of Uttar Pradesh his new political turf.
Singh, who arrived in Lucknow on Wednesday morning to formally declare his candidature, told a crowded press conference, "I wish to accomplish the unfulfilled dreams of Atalji, whose legacy was ably carried forward by his close disciple and our party's senior leader Lalji Tandon".
And in an obvious bid to clear the dust about "dethroning" of Tandon from Lucknow, Rajnath went on to add, "In fact it was some six months back when Tandonji himself expressed his desire to hand over this constituency to me."
The laughter that followed this remark left Rajnath totally embarrassed while a sullen Tandon looked on with a forced nod on his face. Interestingly, Rajnath went on pleading, "Tandonji will confirm that to you himself", but that never happened.
Barely two weeks back, when the possibility of BJP's prime ministerial nominee Narendra Modi candidature from Lucknow was still being debated, Tandon categorically told mediapersons that he was ready to vacate the seat only for Modi and "not anybody else."
The BJP president, who had won the last election from Ghaziabad, cleverly parried a pointed query about his reasons to shift to Lucknow. He, however, sought to point out, "Decision on selection of candidates for every constituency is taken by the party's central election committee and even though I am president of the party, I am not entitled to choose my seat."
When a scribe drew his attention to the internal bickering in the party over distribution of Lok Sabha tickets, he said, "When any party gains more popularity, there is bound to be greater rush for its tickets; and sure enough some persons do find it annoying when they are denied tickets; that is a part of the exercise."
He however claimed, "but our party-led NDA is all set to comfortably cross its target of 272 seats with Narendra Modi as the country's next prime minister. And let me make it loud and clear to all and sundry that our commitment is to ensure that there is no discrimination of any kind between man and man."
To further buttress his point, he went on to add, "We will guarantee complete freedom to every individual to practice and profess his faith and religion, because we know that unless we strengthen every single individual in this country, we will not fulfill our mission to build a strong India."
He said, "Our objective is not just to win the election and form a government but to take India ahead and to build it as super economic power and a super spiritual power under the leadership of Narendra Modi."
Referring to Supreme Court's indictment of the Akhilesh Yadav government for its failure to control the Muzaffarnagar communal violence, the BJP chief said, "While the Samajwadi Party government was busy blaming the BJP for the rioting that took so many innocent lives, the country's highest court had now held the state government alone responsible -- which should be sufficient reason for them to step down on moral grounds."
Coming to local issues, Rajnath listed out his immediate priority to take up three major projects, conceived by Atal Behari Vajpayee, for Lucknow. "Atal ji wanted to build Lucknow as a bio-technology hub as also to rid the Gomati of pollution; and I am going to take up both these projects on top priority."
He said, "I also wish to fulfill Atalji's dream project of connecting various rivers which would come in handy to improve the quality and quantity of water in the Gomati river too."
With Vajpayee's close aide Shiv Kumar seated next to him, Rajnath made it a point to declare, "Since Atalji is not in a position to come and bless us on this day, we have his closest aide Shiv Kumar ji, who specially flew in here today to represent him."