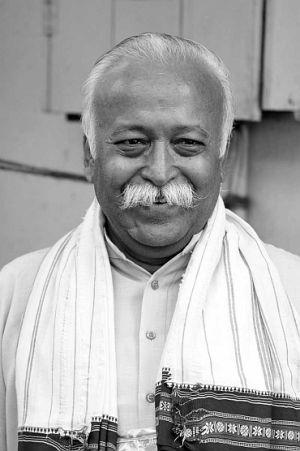 Against the backdrop of sidelining of some senior leaders in the Bharatiya Janata Party, Rashtriya Swayamsevak Sangh chief Mohan Bhagwat on Monday said change is necessary in keeping with the times to ensure that the journey is successful.
With BJP veteran L K Advani in attendance, Bhagwat said at an event in New Delhi that "change is inevitable" even though he did not directly refer to the rumblings in the party over a controversy with regard to seat allocations.
"It is said that change is inevitable. According to time, whatever changes required have to be done ... to let the journey be successful and constant," the Sangh chief said at the event organised by RSS mouthpieces 'Organiser' and 'Panchjanya'.
His comments assume significance as the BJP has been witnessing an upheaval recently with some senior leaders like Advani and Jaswant Singh being sidelined.
Advani was sulking last week on being denied nomination from Bhopal as per his desire and instead being fielded from Gandhinagar, even though he later accepted the party's decision.
Singh also wanted to contest from Barmer but was denied, forcing him to quit the party and contest as an independent.
Bhagwat, at the same time, felt that even as change has to take place with time, the "form" should remain the same.
"This thought that change is inevitable has been established. The basic truth of ever changing world is eternal which is not changeable. Change should be for betterment, we have to keep intact the unchangable", he said.
Bhagwat in his inimitable style said that people who are rooted in their ideology can only provide stability to the country as India today is on the crossroads of change.
"The present scenario in the country is such that people are troubled as to where they will get stability. Where they find it, they are going that side. Those who are rooted in some ideology, only they can provide stability," he said.
Bhagwat also regretted the fact that that the nationalistic fervour is missing since Independence even as the need of the hour is to take the country forward unitedly and "cohesively".
"In this diverse country, after Independence, the need of the hour was to establish a dialogue based on nationalism. But that did not happen. There were many discussions on it.
"We talked too much about emotional integration but the true emotion behind this particular integration was not clear. That is why there is need to generate that clarity," he said.
During his over 30 minute discourse at the function attended by Advani and other senior BJP leaders, Bhagwat said that Organiser and Panchjanya has also not remained aloof to change as it has charted its own course over the time.
Articulating the values propagated by the mouthpiece, he said that people irrespective of their ideological differences read the paper during the Ram Janmabhumi agitation to get correct and authentic news.
Pointing to the activities carried out by the Sangh for the country, he said that the workers remained engaged throughout in ensuring individual growth to lead the society towards a positive direction.
"For this reason, we need changes in all activities of society. People have gone in different directions to bring about change," he added.