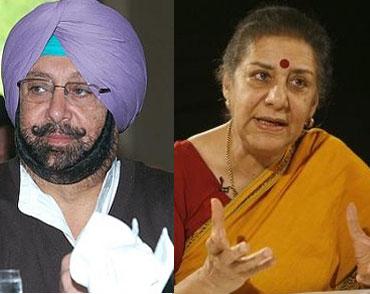 At a time when the Congress is perhaps facing its toughest electoral challenge and senior leaders are opting out of the race one by one, the party has at least succeeded in fielding tough candidates in two Lok Sabha constituencies in Punjab. Anita Katyal reports.
The Congress on Friday decided to unleash its star power in the upcoming Lok Sabha poll in a desperate attempt to correct the growing public perception that its leaders want to sit out this election because they are not certain about winning.
After Union Health Minister Ghulam Nabi Azad, the party leadership persuaded former Punjab chief minister Amarinder Singh and senior party general secretary and former information and broadcasting minister Ambika Soni to contest this election.
Amarinder Singh will be pitted against Bharatiya Janata Party's stalwart Arun Jaitley in Amritsar in what promises to be a high-voltage contest while Soni will be fighting it out in Anandpur Sahib in Punjab. She has replaced the sitting MP Ravneet Singh Bittu, whose candidature had already been announced.
However, it was decided to drop him following reports that there was strong anti-incumbency against him and that his campaign was not picking up.
Amarinder Singh and Soni figured in the list of 26 Lok Sabha candidates released by the Congress on Friday night.
The two leaders agreed to contest this election after hours of persuasion by several senior party leaders.
Amarinder Singh had initially declined the party's request on the plea that he would be busy with his wife Preneet Kaur's election campaign in Patliala. The Congress was keen on fielding a strong candidate against Jaitley as it did not wish to give the BJP a cakewalk.
There was a consensus in the party that Amarinder Singh was best suited to take on the BJP leader in view of his flamboyant and larger-than-life image.
With Bittu proving to be a non-starter in Anandpur Sahib, the Congress did not want to concede this important seat without a fight. Here again, there was unanimity in the party that senior leader Ambika Soni would be able to turn around the campaign although she has never won a Lok Sabha seat. She is currently a sitting member of the Rajya Sabha.
The party had announced the candidature of Ghulam Nabi Azad from Udhampur in Jammu and Kashmir on Thursday. Though Azad has not contested a Lok Sabha poll for the last 29 years (he is a presently a Rajya Sabha member), he agreed to battle it out, realising that his presence could bolster the party's position in Udhampur and adjoining constituencies.
The more cynical view in the party is that none of these leaders have anything to lose by agreeing to participate in this election. Soni and Azad are already members of the Upper House. If they win under the prevailing adverse conditions, it will be a feather in their cap. Alternatively, they will continue as Rajya Sabha members in case they are defeated.
Nevertheless, their decision to say "yes" was a big relief for the Congress, coming at a time when a large number of leaders, ministers and state unit presidents wanted to opt out of this election or were scouting around for a safe seat.
Information and Broadcasting Minister and sitting MP from Ludhiana Manish Tewari has embarrassed the party with his flip-flops. He had initially wanted to shift to Chandigarh as he was not sure of retaining the Ludhiana seat but was left stranded when the party leadership decided to re-nominate sitting MP Pawan Kumar Bansal.
Two days ago, Tewari finally agreed to contest from Ludhiana but, once again, developed cold feet on Thursday night when he informed AICC general secretary in-charge of Punjab Shakeel Ahmad about his inability to participate in the election on grounds of ill health.
The Congress has also been at the receiving end after Finance Minister P Chidambaram opted out of the electoral race on the plea that he wanted to take a break. His son Karti Chidmabaram has been given the ticket from his Sivaganga constituency in Tamil Nadu.
The Bharatiya Janata Party lost no time in taking potshots at the finance minister for running away from the contest, saying the Congress had already conceded defeat.
"It's symbolic that the finance minister is running away. He is not willing to face the public," BJP spokesperson Nirmala Seetharaman said, adding, "The BJP has made a grand alliance in Tamil Nadu. In anticipation of this, top Congress leaders are running away from contesting elections".
There is no doubt that the Congress is facing its toughest electoral challenge. While the prospect of a defeat looms large, the party's morale has hit rock bottom. The party is bracing for is worst performance in Tamil Nadu where it is going into this election without an alliance partner for the first time in 19 years.
Besides Chidambaram, Union Shipping Minister G K Vasan has also opted out of the electoral race.
Image: Amarinder Singh and Ambika Soni