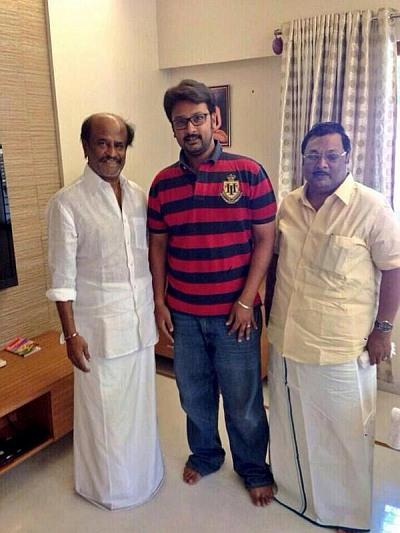 Suspended Dravida Munnetra Kazhagam leader M K Alagiri on Friday met Tamil super star Rajnikanth at his Poes Garden residence in Chennai.
Emerging out of the brief meeting, Alagiri told reporters that the actor was his well wisher and that he had come for his "peace of mind".
Declining to attach any political significance with Friday's meeting, Alagiri said Rajnikanth was his friend and "there is nothing political" about his interaction with the mega star.
"I love Rajni's song in Kochadaiyaan and I wished him success", Alagiri said.
Asked about his meeting with Prime Minister Manmohan Singh on Thursday at Delhi, Alagiri said he had placed a request to name Madurai airport after freedom fighter Muthuramalinga Thevar.
Meanwhile, Alagiri's son Durai Dayanidhi tweeted a picture of himself and his father posing with Rajnikanth.

"Dad wished the one and only SUPERSTAR at his residence on the super hit audio launch of #Kochadaiiyaan ! went along and got his blessings...", he said in the micro-blogging site Twitter.

Image: Durai Dayanidhi with Rajnikanth (left) and Alagiri
Photograph Courtesy: Durai Dayanidhi/Twitter.com