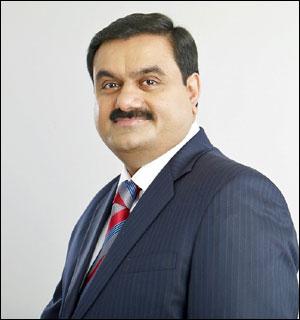 With political parties using him as punching bag in the highly charged election campaign, Adani Group head Gautam Adani on Sunday said he got no special favours from Narendra Modi and his group has since 1993 acquired only barren waste land for infrastructure projects.
The $8.7 billion ports-to-energy Adani Group began acquiring land near the coastal town of Mundra in Gujarat way back in 1993 and only one-third of a total landbank of 15,946 acres was acquired when Modi was chief minister, he said.
"Not a single acre has been taken from any farmer... We went to Kutch when no one looked there and acquired only barren and desert-like land that was not suitable for agriculture," Adani told PTI in an interview in New Delhi.
Adani used the land to build India's biggest port, which loaded and unloaded a record 100 million tons of cargo in the year that ended on March 31, and the nation's biggest coal power station in the private sector, he said, adding that his group did not buy land at cheap rates to sell it to make profits.
"When we began acquiring land at Mundra in 1993, (Chief Minister) Chimanbhai Patel charged us 10 paisa per square meter. (BJP government led by) Keshubhai Patel (in 1995) charged us Re 1 per sq mt and Shankersinh Vaghela (led Rashtriya Janata Party) in 1996-07, charged Rs 1.5 per sq mt. Under Mr Modi, we got some 5,000 acre of land at an average of Rs 15 per sq mt rate," he said.
Congress vice president Rahul Gandhi has in his political meetings used alleged largesse to industrialists like Adani to attack Modi. At a recent rally, Gandhi claimed that Modi had given Adani land for Re 1, the price of a toffee.
\AAP leader Arvind Kejriwal too has alleged a nexus between Modi and industrialists like Adani and Reliance Industries Chairman Mukesh Ambani.