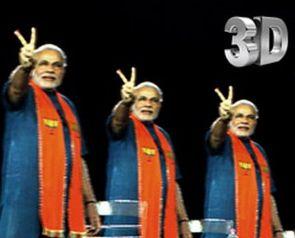 In a first of its kind in Lok Sabha polls, a "recorded video speech" of BJP prime ministerial candidate Narendra Modi will be shown in "3D" on Monday at 300 places across the country, including 18 in Delhi.
"We are using large screens and technology at all those spots," BJP Delhi unit media in-charge Harish Khurana said.
Former Delhi BJP chief, Vijender Gupta said all major cities are being covered under the programme. "In Delhi, all seven Lok Sabha constituencies will have at least two spots to host the screening, while some will have three," Gupta said.
Small cities like Allahabad, Varanasi, Kanpur and Patna, among others will also have facilities to see the 3D speech.
Khurana claimed that during Gujarat elections such a concept was tried on a small scale but this is a much larger canvas and a first of its kind in Lok Sabha polls.
Earlier in the day, Gupta addressed a joint press and accused Congress of dabbling in "communal politics". He was flanked by Jha, who referred to Sonia Gandhi's meeting Shahi Imam of Jama Masjid.
Jha said party workers today started 'vijay sankalap yatra' moving from booth to booth seeking votes for April 10 polls in Delhi.
Attacking Congress regime and Arvind Kejriwal's brief tenure as Delhi chief minister, they cited "police data" to claimed an increase of over 400 per cent in molestation cases in the national capital.
"The case of molestation saw dramatic rise from 653 in 2012 to 3,347 in 2013 – a whopping increase of over 412 per cent," Gupta said.
Taking on AAP regime, he accused the Kejriwal government of performing equally bad if not worse in the area of women security.
Image:A videograb of Narendra Modi's 3D speeches
Photograph: Courtesy: Narendra Modi's website