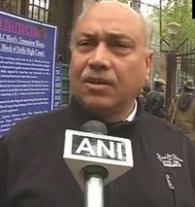 In a jolt to the Aam Aadmi Party, educationist and child rights lawyer Ashok Agarwal on Tuesday quit the party, saying it has become "directionless" and functions like a private limited company.
In a letter to party's National Convener Arvind Kejriwal, Agarwal, who has been associated with the party since its founding days, said that he joined the party for strong principles, but the goals for which it was created for are getting lost.
"The movement seems to have become directionless causing doubts in the minds of people and even people like me who are today feeling the party is functioning like a private company.
"The connect of the aam aadmi is on the wean and a group of elite individuals is promoted to take over the party. The aam aadmi has taken a back seat and what's on the mind of such individuals is personal projection at the cost of that very aam aadmi vision," Agarwal, a member of AAP's national executive, said in the letter.

The national executive committee is the second most important committee in the party after the political affairs committee.
Confirming Agarwal's quitting, party's national spokesperson Deepak Bajpai said, "He never raised these issues at a party forum. Had he done, we would have addressed the issues."
He said that the party learnt about his resignation through the media.
AAP sources also said that Agarwal was keen to contest from Chandni Chowk, but the party fielded former journalist Ashutosh from the constituency. Despite repeated attempts Agarwal could not be contacted.
On one hand, when new people are joining the newly formed outfit, some members who have been associated with the party since its inception days are quitting.
Former AAP leader Madhu Bhaduri, a former diplomat, quit the party and condemned the Khirki extension case in which Somnath Bharti, the then Delhi's law minister, undertook a midnight raid on Ugandan women's residence.
Another national council member Ashwini Upadhaya had also accused the party of "parachuting" candidates and deviating from its goals.
Image: Ashok Agarwal was a member of AAP's national executive