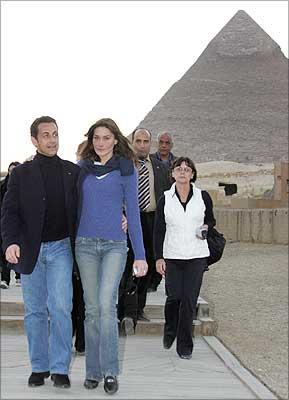 French President Nicolas Sarkozy will be the chief guest at the Republic Day celebrations on January 26 in New Delhi.
To shore up strategic ties, Sarkozy, the youngest French president, will arrive on Friday on a two-day visit and hold talks with Prime Minister Manmohan Singh on a host of mutual and international issues.
Though a controversy over his girlfriend, former supermodel Carla Bruni's proposed visit along with Sarkozy almost took the sheen off the high-profile visit, her decision now not to accompany him in an official capacity made sure the focus is on the mercurial leader.
Latest reports suggest, though not yet confirmed, that Bruni, seen here with Sarkozy on a visit to Egypt, may travel to India on a private visit, separately.
Who is Nicolas Sarkozy?
Sarkozy was elected the French president in May 2007. Before his presidency, he was leader of the Union for a Popular Movement, a right wing party. Known for his penchant for modernism, Sarkozy advocates a clean break with the country's traditional ruling elite.
He seeks closer ties with the European Union. 'Tonight France is back in Europe,' was how Sarkozy dramatically declared in the victory speech soon after he was elected.
What is the row surrounding his girlfriend?
It could well have been a diplomatic puzzle for India. But the French president's girlfriend's rather timely decision to skip the India tour came as a relief for South Block. Had she come as a president's girlfriend, India would have struggled with problems of protocol.
What is on Sarkozy's agenda?
Nuclear cooperation and defence techonology will be high on the agenda. Reforms in the United Nations Security Council and a Mirage aircraft deal will come up during discussions. He has already told an Indian business delegation that he will lobby for India to be included as a permanent member of the UNSC.
The president will be accompanied by a high-level delegation. Sarkozy may also announce the creation of an India-France foundation to boost cooperation in economic, cultural and scientific fields.
With or without her ladylove, it is also now sure that he will visit the Taj Mahal, the embodiment of love, on the afternoon of January 26.
What is buzzing on the business front?
Representatives of around 70 French companies, including retail giant Carrefour, which plans to enter India, will accompany Sarkozy. Interestingly, the same delegation accompanied him to China two months ago. Hospitality firm Accor, France Telecom, Groupe Danone, furniture manufacturer Gautier France, and electronics and semiconductor manufacturer ST Microelectronics will also be a part of the delegation, besides numerous defence, aerospace, information technology and infrastructure companies.
Over the last 11 years, French investments in India reached $1.76 billion (about Rs 17,000 crore), which pales in comparison with investments from other countries. Apparently, the visit will take the investment to a bigger level. The bilateral trade between the two countries crossed $6.2 billion (about Rs 25,000 crore) during 2005-2006.
Will there be any defence deal?
Yes. Defence deals will be one of the key factors during the visit. France, which had been the second largest major arms supplier to India after Russia, has now been overtaken by Israel.
India is expected to announce that France will be the sole bidder for a multi-million contract to upgrade its Mirage fighters.
France also expects India to revive its bid for a $600 million (about Rs 2,400 crore) contract for the supply of 197 helicopters that India scrapped in December with Eurocopter, a unit of European space giant EADS.
Will the talks also touch on the nuclear front?
Talks will delve on a nuclear cooperation agreement that has been in the works for years to allow France to supply equipment and fuel to India once it has cleared hurdles with the UN's nuclear watchdog.
Though the French deal hinges on the outcome of negotiations between India and the International Atomic Energy Agency and with the 45-nation Nuclear Suppliers Group, which controls the global nuclear trade.
Besides the prime minister, who else will he call on?
He will meet President Pratibha Patil, Leader of the Opposition L K Advani, External Affairs Minister Pranab Mukherjee and United Progressive Alliance Chairperson Sonia Gandhi.
Who have been India's Republic Day chief guests in the recent past?
In 2000, Nigerian President Olusegun Obasanjo was the Republic Day chief guest. Next year, it was Algerian President Abdelaziz Bouteflika; in 2002, it was Mauritius President Cassam Uteen; In 2003, it was then Iranian President Syed Mohammed Khatami; Brazilian President Luiz Inacio Lula da Silva did the honours in 2004 and Bhutan King Jigme Singye Wangchuk was the chief guest in 2005. In 2006, it was Saudi Arabia's King Abdullah bin Abdulaziz al-Saud while in 2007, it was Russian President Vladimir Putin.
Also see: Video: French prez's affair has Indian officials blushing
Images: Will a Mrs Sarkozy be visiting India?
France's Hyper President comes calling