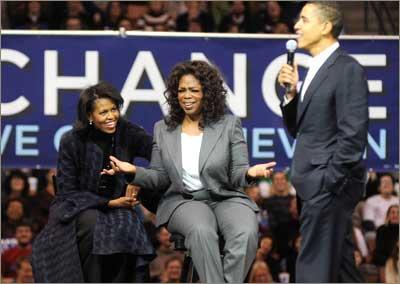 Talk show host Oprah Winfrey has said that her support of US presidential candidate Barack Obama does not mean she is against Hillary Clinton, and that a vote for a given candidate is not a vote against another candidate, ABC has reported.
When Oprah Winfrey appeared with US Presidential Candidate Barack Obama this weekend, the ensuing media firestorm levelled a serious charge against her -- she had crossed the line from endorsing the candidate to campaigning for him.
Moreover, her enthusiastic support of Obama seemed, to some, to leave Oprah an outright opponent of Hilary Clinton's candidacy.
And finally, they began postulating on her potential impact on the 2008 election, saying that Oprah could use her media empire to bring voters into the Obama camp.
But in the ABC report, Oprah dismissed the idea that an Obama staff member had written the speech she delivered at the campaign appearances this weekend in South Carolina.
According to ABC, Oprah said she wrote speech herself the night before, because she realised the importance of the occasion. In regards to her motivation for the appearances, Oprah said that she felt compelled to become involved.
Image: Senator Barack Obama addresses a crowd while talk show host Oprah Winfrey (centre) and his wife Michelle listen at a campaign event on December 9 in Manchester, New Hampshire.
Photograph: Darren McCollester/Getty Images