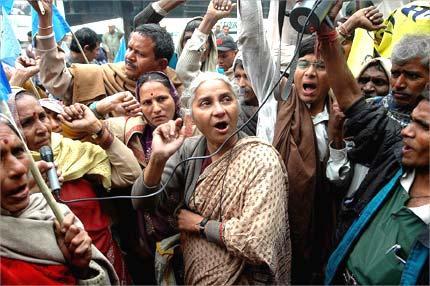 Furious over the Gujarat government's move to raise the height of the Sardar Sarovar Dam, Narmada Bachao Andolan activists led by Medha Patkar on Tuesday staged a dharna outside the Social Justice Ministry, saying it went against the Supreme Court directions.
"The apex court had directed that the height of the dam can be raised to 122 metres only if there is proper rehabilitation of the affected people, which has failed to happen," Patkar said.
Around 200 people led by Patkar were stopped by the police at the gates of Shastri Bhavan that houses the Social Justice Ministry as they tried to barge in to meet the Minister Meira Kumar.
Later, a delegation led by Patkar and comprising social activists Praful Bidwai and Swami Agnivesh met Kumar. But unsatisfied with her reply, the demonstrators refused to leave the premises till they got a "final answer".
"We want a final answer. Meira Kumar says the ministry's secretary heads the working group on relief and rehabilitation. We want the secretary to meet us and answer our questions," said Patkar.
"There should be a vigilance inquiry into the manner in which the land was distributed. The land mafia gained, while the real sufferers failed to benefit," she added.
Addressing the gathering, Agnivesh called on the United Progressive Alliance government to ensure justice to the affected people.
"It was the prime minister who assured that the rehabilitation would be done in a proper way. Now, the height of the dam has reached 122 metres, but rehabilitation remains a distant dream," Agnivesh said.
Addressing the gathering, Patkar alleged that the Gujarat government is in the process of now raising the height of the dam to a further 138 metres by installing gates that are 16-mt-high on the constructed dam.
"(Chief Minister Narendra) Modi has plans to now further raise the dam height to 138 metres and the government is also inviting hotel and water park industries to set up infrastructure on the banks of the river valley. We would oppose such moves till our last breath," she said.
Officials of the Ministry of Social Justice, however, said the minister gave a patient hearing to the NBA delegation.
"The minister had a 45 minute meeting with the delegation. We come into the picture only regarding the R and R sub-group (resettlement and rehabilitation sub-group), which our secretary heads. There is nothing we can do in this case," an official said.
The protestors also paid tributes to the tribals killed in the Kalinganagar police firing. Today marks the first anniversary of the police firing in Kalinganagar where 13 tribals were killed while protesting against land acquisition for an industrial project.
The protests on Tuesday also included activists from the JNU Students Union and people affected by the Tehri project.
Photograph: Dijeshwar Singh/Saab Pictures