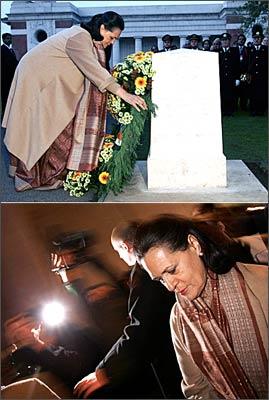 In a gesture that will go well with millions of Indian soldiers back home, United Progressive Alliance chairperson Sonia Gandhi laid a wreath at the famous Indian memorial at Menin Gate in Ieper, Belgium, saying it felt a shame to be alive when men so brave are dead.
Over 50,000 Indian soldiers laid down their lives in the Fields of Flanders during the 14 months of war during 1914-1915, fighting on behalf of the Allied armies of Belgium, France and Great Britain in the First World War against the Imperial German Army.
Wearing a sandalwood-maroon coloured saree and an overcoat to beat the chill, Sonia briskly walked up to the Indian memorial established on November 10, 2002, at an elevated place in Menin Gate and placed the wreath there.
The nearly 30-minute memorial ceremony on Friday evening was held as a chilly wind blew at the St Martin's Cathedral at dusk.
Photographs: AFP/Getty Images