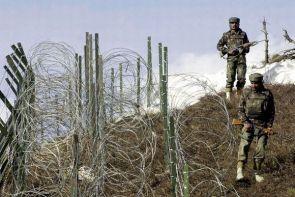 Tension along the Indo-Pakistan border may cast its shadow on the bilateral talks between the border guarding forces of the two countries scheduled to be held later this month in Lahore.
The tentative dates for the bi-annual talks have been finalised between August 30-September 4 even as the Union Home Ministry is vetting the contents of the meeting that will be discussed between the Directors General of the Border Security Force and Pakistan Rangers.
Sources said those involved in the proposed deliberations, however, kept their fingers crossed if the talks would happen on these dates or would be postponed as they have happened a few times earlier when tensions happened between the two countries along the LoC or the International Border in Jammu and Kashmir.
A host of issues like border fencing, confidence building measures for the benefit of border population on both sides, and construction of infrastructure is on the discussion table but the talks are going to be hogged by issues related to unprovoked firing, violation of ceasefire and firing from sniper weapons leading to fatal casualities of Indian troops, the sources said.
The delegation of both the forces will include the local commanders present on the frontier and the Indian side is confident of putting across on table the issue of unprovoked firing which vitiates the peace and tranquility of the border, they said.
The last DG level talks between the two forces were held in July last year in Delhi.
The other issues expected to be discussed during the forthcoming talks include subjects of trans-border crime, smuggling of fake Indian currency and sneaking of narcotics from across the border.