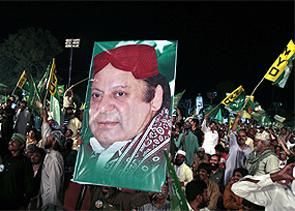 Nawaz Sharif on Wednesday made a triumphant return as Pakistan's prime minister, calling on all parties and stakeholders to be on the same page for tackling the country's massive political and economic challenges.
Sharif, 63, was formally elected as premier for an unprecedented third stint by the National Assembly or lower house of Parliament on Wednesday afternoon.
He was elected by an overwhelming majority, polling 244 votes in the 342-member House.
Pakistan is facing serious problems that cannot be solved by any single political party, Sharif said in an address to the National Assembly after his election.
The treasury and opposition benches, political parties and all stakeholders have to be on the "same page" to tackle these challenges, he said.
"I will contact all parties and their leaders. Let's sit together and if you share our vision, we are ready to share your vision. Let us sit and make a common agenda to pull the country out of problems," Sharif said.
Sharif served as the premier between 1990 and 1993 and between 1997 and 1999, but was ousted from office before he could complete his term -- once on corruption charges and later because of a military coup led by Pervez Musharraf.
After spending the past five years in the opposition, Sharif led his Pakistan Muslim League - Nawaz party to victory in the May 11 general elections.
Besides a massive energy crisis that has resulted in power outages of 12 to 20 hours a day across the country and an economic meltdown, the new PML-N government will have to contend with a raging Taliban insurgency that has claimed thousands of lives over the past six years.
Sharif said he and his aides had framed a plan of action to cope with Pakistan's problems and he would soon inform the people about the steps the government intended to take.
He cautioned the people that they should not expect any quick fixes or promises that are unrealistic.
"The economic position is very bad and I will not present a fanciful image of heaven," he said.
He pledged that he would not "sit easy" or allow his "team to sit easy".
Foreign policy issues, including relations with India, did not figure in Sharif's speech though he said that United States drone strikes in Pakistan's tribal belt "must stop".
The PML-N's plan for a "Roshan Pakistan" will include steps to boost economic and trade activities to help the country stand on its own feet and measures to create new infrastructure and investment opportunities.
"We will not tolerate any form of corruption and there will be strong accountability," he said.
The government will issue advertisements in national and international dailies seeking candidates to run state-run entities and corporations and people will be appointed solely on merit, Sharif said.
The PML-N will take on all challenges and focus on good governance in order to overcome problems like despair among the youth, corruption, extremism and lawlessness and Pakistan's poor image in the world community, he said.
Pakistan would address the concerns of other countries but they too should respect Pakistan's sovereignty and concerns, he said.
Sharif lauded the previous Pakistan Peoples Party-led government for handing over the management of Gwadar port to China and said he and Chinese Premier Li Keqiang had agreed to form task forces to boost cooperation, including road and railway systems for trade.
The new premier did not outline how his government intends to deal with the banned Tehrik-e-Taliban Pakistan and other militant groups.
In the past few weeks, Sharif has called for peace talks with the militants.
The Taliban withdrew their offer of talks after its deputy chief Waliur Rehman was killed in a recent US drone strike.
Image: Supporters of PML-N hold a portrait of Nawaz Sharif as they attend an election campaign rally in Rawalpindi | Photograph: Faisal Mahmood/Reuters