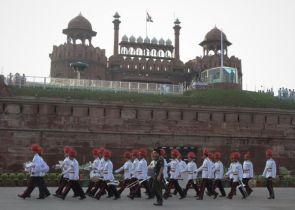 Shaadi ki taariq mukarar ho gayi hai (the date of the wedding has been fixed) said the coded message between Javed Baluchi a handler in Pakistan and Shahid Imam from Mewat. This conversation between the Lashkar-e-Tayiba operatives on December 4 was picked up by the Delhi police, which led to the module being busted.
The decoded message meant the LeT was ready to strike Delhi.
The Delhi police said the Lashkar module was operating between Delhi, Haryana and Rajasthan.
Mewat, a small village in Haryana, has come under the radar following the arrest of the imam. The Delhi police claimed that the 30-year-old imam was recruited to be part of a module in Mewat with a plan to target Delhi.
The date of attack was fixed for December 4 but the LeT was unable to undertake the operation. The strike was then pushed to December 11, but the module was busted by then. The Delhi police made the arrest public only on Friday.
Although the Haryana police deny any activity of terror in Mewat, the Delhi police say there has been a small module that has been able to escapes the eye of the security agencies.
One of the first recruits from this place was Abdus Subhan in 2001.