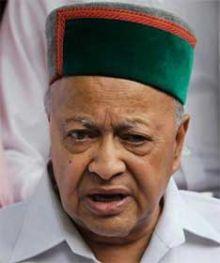 Congress and Himachal Pradesh Chief Minister Virbhadra Singh on Monday asked the Bharatiya Janata Party, which has been attacking him for alleged corruption, to approach the Lokayukta, with the veteran leader asserting that he was ready to face the "consequences".
Congress, however, evaded queries on whether it was giving a clean chit to its Chief Minister, saying the charges have to be first investigated by the anti-corruption ombudsman.
"For any responsible demand, you have to follow the process, you do not prejudge....Once again we are jumping the gun. Let Lokayukta investigate," party spokesman Sanjay Jha told reporters at the All India Congress Comittee briefing in Delhi, when asked whether the high command was giving the chief minister a clean chit.
He preceded his remarks by saying that the party believes that a clean chit can be given by legal authorities, courts and police authorities.
"Virbhadra has given a document and there is clear categorical message in that. He believes that it is a clear case of political vendetta and the action has been taken by the prevuious BJP regime. There is a Lokayukta in the state if there is a statment which indicts somebody."
The AICC reaction was similar to one of the beleaguered chief minister who, earlier in the day, asked state BJP leader Prem Kumar Dhumal to go to the Lokayukta with whatever charges he wanted against him or anybody else, saying, "we will face the consequences there."
"If he (Dhumal) has anything to say against me, as I said earlier also, he should go to the Lokayukta," Singh said in Shimla.
Noting that Himachal Pradesh was one of the states where Lokayukta was set up long back, the Chief Minister said, "During my tenure and at present, we have an eminent Lokayukta who is a retired judge of the Supreme Court.
"Let him (Dhumal) go there make whatever charges he wants to make against me or anybody else and we will face the consequences there rather than running state to state, house to house. This is not going to serve any purpose."
The BJP had on Sunday questioned the "silence" of Sonia Gandhi and Rahul Gandhi over corruption allegations against Singh and dared the Himachal Pradesh Chief Minister to agree to a CBI probe into the charges which he has dubbed as politically motivated.
"The Congress Party and Virbhadra Singh have decided to brazen out the allegations of corruption. Sonia Gandhi and Rahul Gandhi will hide behind silence," Leader of Opposition Arun Jaitley had said on his blog.
Hitting back, Singh had said that both Jaitley and former chief minister Dhumal had "deliberately suppressed relevant facts" in their press conferences to suit their "ulterior political motive".