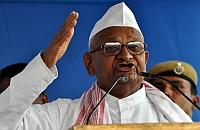 Anna Hazare on Thursday said that the legislators and executives of the country were supposed to be servants of the people, but they had made everything possible to convert the owner (people) of the country to their servants.
Addressing a public rally Guwahati, Anna announced that he would travel the entire country from January next year for 18 months to give a boost to the anti-corruption movement by making it a mass movement so that the government comes under tremendous pressure to deliver.
"We, the people elect members of Legislative Assembly, members of Parliament to legislative assemblies and Lok Sabha to manage our (people's) property (resources of the country. Now see how they are managing it. They have rather looted our property. The servants (MLAs, MPs) have converted us the owner (people) to servant. They have virtually forgotten that the government is the people (janata) and MLAs/MPs/officers are the servants of the people," he said.
Stating that the resources of the country are property of the people, Anna called upon the Central government to formulate a legislation giving power to gram sabhas at the grassroot level.
"Gram sabhas should be much more powerful than Vidhan Sabha and Lok Sabha as these will send representatives to state assemblies and the Lok Sabha. Any citizen of the country attaining the age of 18 years will become a member of Gram sabha," he said.
He called upon the government to provide land to landless farmers in the state and take scientific measures to tackle the perennial problem of flood and erosion that have caused misery and displaced to lakhs of farmers in the state.
The rally addressed by Gandhian leader was organised by Krishak Mukti Sangram Samity, an influential mass based organisation in Assam led by noted right to information activist Akhil Gogoi.