South African batsmen AB de Villiers and Faf du Plessis are the only candidates to replace retiring captain Graeme Smith as the Test skipper of their team, according to a report.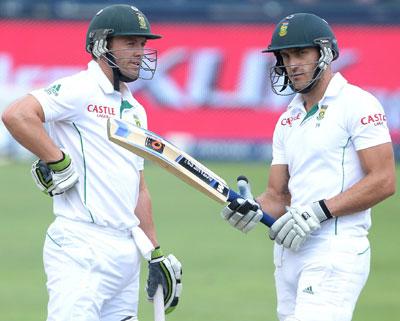 Cricket South Africa (CSA) has reportedly said that there is no special rush in naming the successor, after almost 11 years of virtually uninterrupted and often inspiring leadership from Smith, as the winter tours to Sri Lanka and Zimbabwe are still several months away.
According to Sport24, Du Plessis will be closely assessed as captain of the Test team at the upcoming ICC World Twenty20 in Bangladesh, although he would be considered as the second favourite with De Villiers being the most appealing candidate on the grounds of his more established captaincy of the one-day international side since January 2012.
Although the report said that being Smith's vice-captain, De Villiers should be the chosen one if natural progression is considered, however, former South African player Daryll Cullinan feels it is a 'tall order' to expect De Villiers to assume the five-day reins on top of his ODI leadership load despite his special aura as a player and strong public persona.
However, the report said the very fact that he has gone through a school of hard knocks, during a time of transition for the one-day side, stands De Villiers in good stead, adding that under his tenure, signs are emerging now that the team is coming together at a good time, bearing the 2015 World Cup in mind.
De Villiers has also shown impressive evidence that the needs of leadership do not wear him down at all from a personal performance point of view, and the report added that he is a bastion of reliability and match-winning potential.
Image: South Africa's AB de Villiers and Faf du Plessis during their partnership against India in the first Test in Johannesburg
Photo: Getty Images