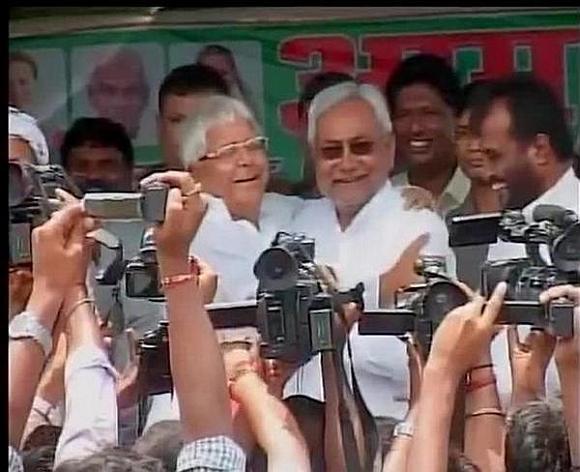 The Bharatiya Janata Party on Monday termed as a 'political drama' the coming together of Rashtriya Janata Dal supremo Lalu Prasad and former Bihar chief minister Nitish Kumar of Janata Daul-United and said despite embrace, their 'sins' will not be washed away.
"Prasad committed the sin of foisting 'jungle raj' in Bihar for 15 years. Kumar is guilty of preparing groundwork for imposition of 'jungle raj-2' by joining with the RJD," senior BJP leader Sushil Kumar Modi said in a statement.
The sins of Prasad and Kumar would not be washed away due to their association with jungle raj in one form or the other, Modi said.
The statement of former deputy chief minister came hours after the two erstwhile arch-rivals shared dais for the first time in two decades to jointly campaign for JD-U nominee Rajendra Rai at Hajipur.
"The people did not give thumping majority to Nitish Kumar-led NDA to enable him to embrace the RJD supremo. If he had to do this, he should have recommended dissolution of the Assembly after quitting as chief minister and sought a fresh mandate," Modi said.
Referring to the epics, he said if some people called this alliance a meeting of lost brothers, it was not that of Rama and Bharata. It was rather like Karna and Duryodhana and the two would meet the same fate of the two Mahabharata characters as they too came together because of shared vested interests, Modi said.
The BJP leader thanked Prime Minister Narendra Modi for forcing these two bitter rivals to join hands even though it might be half-hearted and due to political compulsions.
He said the people would defeat those indulging in politics of theatrics to derail the vehicle of development during the bypoll on 10 Assembly seats to be held on August 21.
Image: Lalu Prasad and Nitish Kumar hug each other as they start a joint campaign in Hajipur.