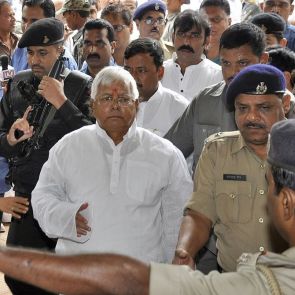 The Supreme Court on Friday granted bail to Rashtriya Janata Dal chief Lalu Prasad in a fodder scam case, in a relief to the politician who is behind the bars for the last two months after being awarded a five-year jail term.
A bench headed by Chief Justice P Sathasivam granted bail after noting that several other similarly placed convicts have already been granted bail in the case.
The bench also comprising Justice Ranjan Gogoi, however, left it to the trial court to decide the bail bonds, sureties and other conditions to be imposed on the former Member of Parliament.
CBI, which is the prosecuting agency in the case, did not oppose Prasad's bail plea.
Former Bihar chief minister Rabri Devi expressed happiness, while RJD leaders and workers distributed sweets across Bihar on hearing the news.

"I welcome the bail given to Laluji by the Supreme Court and happy to greet him soon," said Rabri Devi, clad in her usual colourful sari and bindi, surrounded by RJD workers and leaders.

Rabri Devi said she has faith in the judiciary. "Delay for bail to Laluji was temporary, I was hopeful he will be released on soon," she said.

"I was little sad and alone without Laluji. But now this phase will be over as Laluji will come out of jail and will start normal life from Saturday," Rabri Devi said.

When asked about how she missed Lalu, Rabri Devi said Lalu may be away but he always remains in her heart." Laluji is always in my heart. No one can take him away," she said with a big smile.

Rabri Devi said that her two sons will visit Ranchi to meet Lalu and accompany him to Patna.

Pleading for bail, Prasad, who lost his membership of Parliament after being convicted in the case, submitted that of the 44 persons convicted along with him, 37 have been granted bail and no one's, except his bail plea has been rejected.
Senior advocate Ram Jethmalani, appearing for the politician, submitted Prasad has already spent 12 months behind bars, including two months of his five-year sentence, and sought bail, saying the Jharkhand high court before which his appeal is pending will take at least seven to eight years to decide the case.
Prasad had moved the apex court challenging the order of the Jharkhand high court which had dismissed his bail plea.
The RJD chief, another former Bihar Chief Minister Jagannath Mishra and 43 others were on September 30 convicted by a special CBI court in the fodder scam case involving fraudulent withdrawal of Rs 37.7 crore from Chaibasa Treasury during the Prasad-led RJD regime.
The CBI court had pronounced varying prison terms for the convicted persons on October 3.
In his bail petition, the RJD chief had said, "No reason has been given by the court for the rejection of bail. The petitioner has been treated differently in the matter of grant of bail in as much as some of the co-accused, who are similarly situated, have been granted bail."
With inputs from PTI