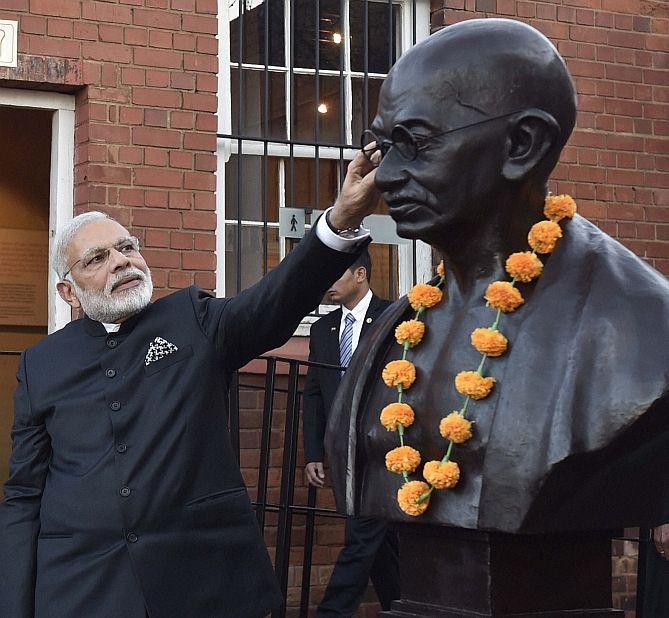 Defending the move of Khadi and Village Industries Commission to publish Prime Minister Narendra Modi's photo on its 2017 calendar and table diary, KVIC chairman V K Saxena said there is 'no rule or tradition' that only Mahatma Gandhi's picture can be published on these items.
Airing similar views, the Prime Minister's Office said the controversy was 'unnecessary' as 'there is no rule in KVIC that it's diary and calendar should have only Gandhiji's photo'.
The explanation came amid protests from various sections of society, especially Gandhians, and from opposition political parties, who alleged that KVIC is trying to 'replace' Mahatma Gandhi with Modi through such acts.
Refuting such allegations, Saxena claimed the PM's appeal actually helped in boosting the sale of Khadi and eventually helped lakhs of Khadi weavers.
"I want to first ask whether anyone can replace Gandhiji? Is Gandhiji's stature so small that he can be replaced so easily? He can... never ever can be replaced. This whole controversy is unnecessary and out of the context," Saxena said.
"There is no such rule or tradition that we can publish only Gandhiji's photo on our calendar or on the cover of diary. His (Gandhiji's) photo was not there in 2002, 2005, 2011, 2013 and 2016," the KVIC chairman said.
The KVIC is a statutory body established by an Act of Parliament. Saxena was appointed as chairman of KVIC in October 2015 by the Centre.
According to Saxena, sale of Khadi has increased many fold after Modi appealed the citizens to embrace Khadi.
"During the last 10 years, the growth rate of Khadi sale was around 2 to 7 per cent. But, after the prime minister's appeal, it has gone up to 34 per cent in 2015-16. This had a direct impact on the lives of spinners, who are now getting sufficient work due to this sudden increase in demand," Saxena said.
He also said the cover photo of the prime minister is also 'relevant to the core values' of KVIC.
"This photo was taken in Ludhiana on October 18 last year when the prime minister distributed 500 charkhas to women at an event. It was published in all major national as well as international newspapers. This photo itself serves as an appeal to citizens to embrace Khadi," Saxena said.
PMO sources also cited precedents where no picture of Mahatma Gandhi was used on such KVIC material.
"In the calendars and diaries of 1996, 2002, 2005, 2011, 2012, 2013, 2016, there was no picture of Gandhi. So there is no question of Modi replacing Gandhiji's picture," the sources said.
"Those stoking the controversy over the issue should realise that during Congress rule of 50 years, the sale of khadi remained restricted to 2 per cent to 7 per cent but in last two years, the sale has seen an unprecedented jump of 34 per cent. This is because of PM's efforts to popularise khadi," they added.
The PMO said 'Modi is an icon of the youth and the growing popularity of khadi in the world is testimony to this'.
A controversy erupted on when KVIC published their calendar and diary with a photo of Modi weaving khadi on a charkha (spinning wheel).
On Thursday, upset over Mahatma Gandhi's picture missing on the calendar of the KVIC, a section of its workers in Mumbai staged a protest, and sought to know why the image of the father of the nation was left out, while featuring the PM.
In a brief protest, dozens of workers associated with the KVIC, who gathered at suburban Vile-Parle, said they were raising the issue since Mahatma Gandhi has been the driving force behind the Khadi movement.
Taking a dig at the PM, Congress vice president Rahul Gandhi tweeted, 'The Mangalayaan effect,' implying that Modi was trying to take credit for promotion of KVIC like he had allegedly done after India's spacecraft Mangalayaan landed on the Mars.
Congress chief spokesperson Randeep Surjewala said, "Khadi and Gandhiji are symbols of our history, self-reliance and struggle. Removing Gandhiji's photo is a sacrilegious sin."
West Bengal Chief Minister Mamata Banerjee said, 'The great symbol of 'charka' (wheel) and Mahatma Gandhi now gets replaced by Modi babu. In the calendar and diary of Khadi (KVIC) 2017, Modi replaced Mahatma Gandhiji. Gandhiji is the Father of the Nation. Modiji what???(sic).'
Janata Dal-United spokesperson K C Tyagi said it was a matter of 'big shame' that Mahatma Gandhi's picture was removed in a year when the country was celebrating centenary anniversary of his first Satyagraha movement in Champaran in Bihar.
He demanded Saxena's sacking for the 'tuglaqi' decision.
However, Bharatiya Janata Party spokesman Sambit Patra said an 'unnecessary controversy' has been created over a 'non-issue'.
Addressing a press conference, he rejected as 'false' the charge that Modi's picture replaced that of Mahatma Gandhi in KVIC calendar, insisting that the Father of the Nation's photo had not been used many a time in the past.
He also said that there is no rule in KVIC that says only Gandhi's photograph should be used.
Targeting Congress and Gandhi ruling family, he said their love for the Father of the Nation's picture was confined to the currency notes carrying his photo and that they 'misused' his name for political purpose for all these years.
"The prime minister promoted Gandhi's philosophies and these are reaching every household... There is one party which ruled for years in Gandhi's name. They keep calling themselves Gandhis though they had no link with Mahatma Gandhi," he said.
Modi has been promoting the values Gandhi stood for whether it is swachhta (cleanliness) or khadi, Patra said.
IMAGE: A file photo of Prime Minister Narendra Modi with a bust of Mahatma Gandhi at Constitutional Hill in Johannesburg, South Aflica. Photograph: Kamal Singh/PTI Photo