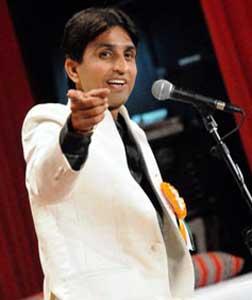 Aam Admi Party leader Kumar Vishwas on Monday said he would be taking on Congress Vice President Rahul Gandhi in Amethi in Lok Sabha elections and dared the Bharatiya Janata Party's prime ministerial candidate Narendra Modi to run from the same constituency and "see who wins" the contest.
"I want to tell Narendra Modi that he should stop speaking about Rahul for 50 minutes in his one-hour speeches. If he really wants to end Gandhi's stint from Amethi, then let him contest from Amethi. Let Rahul, me and Modi contest from Amethi and let people see who wins," he told media persons.
He said if Rahul changes his constituency, he will follow him wherever he goes.
"I have got information that Rahul may contest from some other constituency, I have decided that I will also contest from the very seat from where Rahul Gandhi will fight the upcoming elections.
"I have applied for a Lok Sabha ticket. I am also an aspirant, the two-member sub-committee of AAP will decide on the number of seats the party will contest in the elections and the names of the candidates," he said.
Launching a scathing attack on the Congress scion, Vishwas said "Rahul cannot hide the 10 years of Congress misrule by rolling up his sleeves and tearing a few pieces of papers. He has not asked a single question in the Lok Sabha, he was never in the picture whenever an important issue like Lokpal or women security was in the limelight."
Accusing Modi of dynastic politics, he said "Modi had fielded three shehzade (princes) in Delhi, two of them lost while one could hardly win. AAP believes that two persons should not get tickets from the same family."