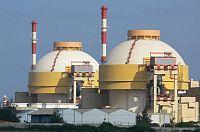 The Kudankulam nuclear power plant is completely safe and designed to withstand all kinds of natural disasters, the Centre told the Supreme Court on Tuesday adding various apprehensions over its safety are baseless.
Appearing before a bench of justices K S Radhakrishanan and Deepak Misra, Attorney General G E Vahanvati said the Kudankulam plant is absolutely safe beyond all doubts and all the apprehensions are misplaced.
The bench also asked the Atomic Energy Regulatory Board to give details safety measures to be placed at different stages before the plant is commissioned.
Vahanvati said the 17 safety measures sought to be placed was not the condition precedent for the operation and commissioning of the plant as other safety measures are good enough to withstand the Fukushima type of Tsunami.

He said the 17 measures were the additional safety measures evolved to be put in place in phased manner to ensure that the plant is fully safe.
Attorney General Vahanvati submitted that the anti-nuclear activists were proceeding on wrong assumption that task force was appointed by the government. He said it was appointed by the Nuclear Power Corporation of India and approved by the Kudankulam Nuclear Power Project (KKNPP).
The reports given by the NPCL are reviewed by the Project Advisory Board which is under the AERB, he said adding that all the recommendations on safety aspect also go through the high level committee appointed by the AERB.

Earlier, NPCL, which is operating most of the nuclear plants in the country, had said the plant has been so designed that it can withstand natural events like earthquake, tsunami etc and even in case of terrorist attack, the structure would not release radioactive rays in public domain.

"The design includes provisions for withstanding external events like earthquake, tsunami/storm, tidal waves, cyclones, shock waves, aircraft impact on main buildings and fire," the NPCIL had said in its affidavit.
"As regards to the vulnerability of the KKNPP to the terrorists attacks, sabotage, etc, it has elaborate physical security arrangements in place to ensure its security. The structural design of the facilities at KKNPP ensures that in the event of a physical attack, the structure would prevent the release of any radioactivity into the public domain," the corporation had said.
The Corporation had further said it has implemented some of the safety recommendations of the Atomic Energy Regulatory Board (AERB), made in wake of the Fukushima incident.
"It is submitted that the plant is absolutely safe even without the 17 recommendations, recommended out of abundant caution by the AERB. It is submitted that even if a Fukushima type of incident were to occur, the KKNPP is fully equipped with all the safety measures to withstand any such unlikely event," the affidavit had added.
"It is stated that the KKNPP also incorporates Seismic Instrumentation for monitoring seismic activity and providing automatic reactor shutdown in case of occurrence of an earthquake," the affidavit said.