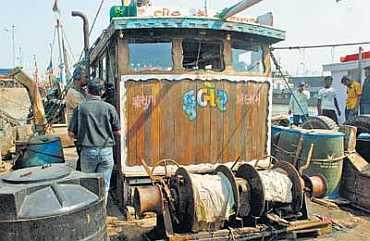 The kin of the four fishermen of the boat, which was hijacked by 26/11 attackers to reach the Mumbai coast, have expressed anguish over the 'missing' crewmembers not being counted as victims entitled to aid on a technical ground by the Maharashtra government.
"We have made a number of requests to Maharashtra chief minister Prithviraj Chavan to sympathetically consider the plea of the family members of the four fishermen for providing them financial assistance," vice president of the Gujarat Fishermen Association Veljibhai Masani told PTI on the occasion of the fourth anniversary of the terror attacks.
Kuber, a fishing trawler, had been hijacked by the 10 Pakistani terrorists off Jhakau coast in Gujarat to reach Mumbai for carrying out the strike. While nine of the perpetrators were killed during the three-day siege, the lone captured terrorist Mohammad Ajmal Aamir Kasab was executed last week.
The four fishermen, who are "missing" as per the official records since 2008, were identified as Ramesh Nagji Bamaniya from Junagadh and Balwant Prabhu, Mukesh Rathod and Nathu Nanu from Navsari district.
Bhavesh, son of one of the missing anglers Ramesh Bamaniya, said the  Maharashtra government "discriminated" while granting financial relief to the 26/11 victims. "Non-receipt of financial aid has made it difficult for me to support my family consisting of my mother, three sisters and grandparents," Bhavesh said.
The Maharashtra government paid a compensation of Rs 5 lakh to the family of Amarsinh Solanki, the captain of Kuber whose body was later recovered by the Indian Navy. However, bodies of the four fishermen, believed to have been dumped by the terrorists in the sea, were never found.
"There should be no doubt that four missing fishermen were killed. Even Kasab had, during his trial in a Mumbai court, said all the five crewmembers of Kuber boat were killed by the terrorists on their way to Mumbai," Masani said.
"We have been raising this demand repeatedly on every anniversary of the terror attack. However, the Maharashtra government continues to ignore our demands," Masani said, adding that the "attitude" of the state government has "hurt" the feelings of the kin of the fishermen.
Similar views were expressed by family members of three other fishermen.
"The GPS system used by terrorists proved that this ill-fated boat was used to cross the international maritime water boundary to reach Mumbai," Masani said.
If the Maharashtra government can pay a compensation of Rs 5 lakh each to other victims, including foreigners, of the terror attacks, then why is it depriving the kin of the four fishermen from the financial assistance, questioned Masani.