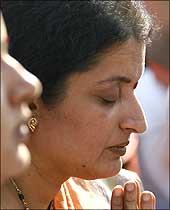 Kavita Karkare, slain Anti-Terror Squad chief Hemant Karkare's widow, believes that even after terrorist Ajmal Kasab's execution, the battle against the perpetrators of the 26/11 attacks has only reached an early stage.
Karkare, left, is upset how the real issues behind the attacks were neglected and unnecessary controversies raised.
"It gives some satisfaction that the terrorist has been hanged, but the real culprits are still at large," she told Rediff.com, adding, "This is an end to a part of the 26/11 saga. Larger questions are still open and they have to be answered. The fourth anniversary of the Mumbai attacks should start on this note."
Karkare, whose husband was murdered by Kasab and his accomplice Ismail Khan that horrific night four years ago, pointed out, "Even after such a drastic attack and paying such a heavy price, we are not sure that there will be another attack on such a scale and of such a nature."
"In the four years after 26/11, there were blasts at so many places, including Pune. They only showed that we are as vulnerable as before," she said.
Hemant Karkare was killed along with Joint Commissioner of Police Ashok Kamte and the Mumbai police's encounter specialist Vijay Salaskar in the lane adjoining the St Xavier's College, south Mumbai.
Kavita Karkare now lives in Pune. She keeps a low profile and avoids controversies. However, she is not happy with the progress the case has made.
"There were controversies over the quality of bulletproof jackets and equipment provided to the police force. What happened to that? Was there any inquiry? And if yes, then what were the findings? How can we know why so many officers went there unprepared and got killed? Why was there was an absence of coordination and cooperation from the (Mumbai police) control room -- all these questions still remain unanswered," she said.
"If we really want to provide justice to the victims of the terror attacks, these questions are to be answered," she felt, adding that hardly any lessons appear to have been learned since the police force is as unequipped as it was before, and there is no strategy to fight terrorism.
Some individuals had alleged -- without any evidence -- the role of right-wing Hindu organisations in Karkare's death. When he was killed, Karkare was investigating the Malegaon blasts for which individuals like Sadhvi Pragya and the Indian Army's Lieutenant Colonel Srikant Purohit were charged.
"Now that it has been proved that Hemant was killed by Islamic terrorists, this talk has to stop," his widow said. "These allegations only diverted attention from the main issues and distracted the public. This should stop."