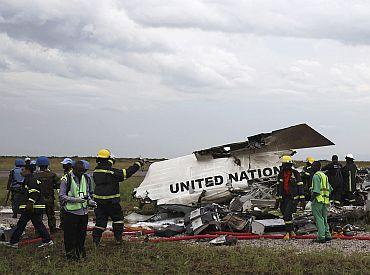 A United Nations plane with 33 people onboard crashed while attempting to land amid torrential rain in the DR Congo capital of Kinshasa on Monday, killing 32.
The United Nations' office in New York said that it feared the fate of the 33 persons -- 29 passengers and four crew members after the small plane crashed on Monday afternoon in the capital of the Democratic Republic of the Congo.
The plane had been travelling from the north-eastern city of Kisangani and was trying to land in Kinshasa, Pelle Kipela Mondo, deputy editor-in-chief of Radio Okapi, which is co-managed by the UN peacekeeping mission in the DRC (known as MONUSCO), said.
The crash occurred at around 1 p m (local time) when the plane attempted to land in the midst of torrential rain in Kinshasa.
The Kinshasa airport reported strong thunderstorms and sustained winds of 37 kilometres per hour at the time. MONUSCO staff has rushed to the scene to help in the rescue efforts.
Image: Salvage workers gather at the scene of a UN plane crash in Kinshasa
Photograph: Reuters